Post-Mortem on the Metal Fabrication Industry After COVID-19
COVID-19 wreaked havoc on a lot of industries, and it certainly impacted supply chains. The OEM metal fabrication industry is no stranger to challenges, but the past year stretched it thin. The sector, already known for raw materials shortages, demand swings and labor shortages, saw challenges on a grand scale.
As the world works to move past the pandemic, Voice of B2B Daniel Litwin talked with Eric Miller, President of Miller Fabrication Solutions, on Marketscale Radio about how this industry survived the COVID-19 Pandemic.
The pandemic deeply impacted supply chains, and, as projects and other industries were screeching to a halt, it was just a matter of time before it made its way down the line to metal fabrication.
"As infrastructure projects get tabled or large commercial construction gets stopped, those projects really impact our industries," Miller said.
Miller's team had some luck, though, as the space they used to manufacture their large products had enough room to provide social distancing space. This allowed his team to continue with their essential work.
"Our production space is large enough that we could accommodate the CDC requirements with ease," Miller said. "If you have a situation where you have assembly line workers 18 inches apart, that was a little more challenging." Miller's team, luckily, didn't have that challenge.
The OEM metal fabrication industry will have its work cut out to bounce back from the pandemic and make sure it's more prepared and resilient for future challenges. One of the challenges, pandemic or not, is making sure the company has enough skilled workers.
"The people are the priority," Miller said. "We need skilled tradesmen to do what we do."
Follow us on social media for the latest updates in B2B!
Twitter – @MarketScale
Facebook – facebook.com/marketscale
LinkedIn – linkedin.com/company/marketscale
Latest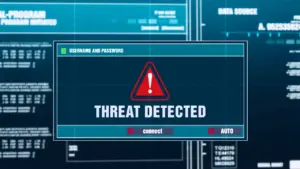 December 8, 2023
To keep up with the growing threats, cybersecurity in healthcare is a high-level priority. The recent ransomware attack on Ardent Health underscores a stark reality for the healthcare industry: cyber threats are a significant and ongoing challenge. Mike Saylor, the CEO of Blackswan Cybersecurity, LLC, sheds light on the complexities of cybersecurity in healthcare. […]
Read More