Your Relevant Solution: The Key Differentiators of Relevant Industrial
Finding answers and delivering results is what Relevant Industrial is all about. As an industrial business in a competitive market, Relevant Industrial has learned to adapt in order to grow. Jeremy Wilcox, VP of Business Development for Fluid Connectors at Relevant Industrial, sits down with host Tyler Kern to discuss Relevant Industrial's key differentiators in the market.
PF&G, otherwise known as Precision Fitting and Gauge, came together with Relevant about two years ago. This "precision fit" helped boost company output and expertise while Wilcox expanded on staff skills, "My role…is really to manage the overall health of our division. We have remarkable talent within our sales team."
Not only does the team help educate customers on services and products which Relevant offers but, Wilcox said, "We really want to understand what those needs and pain points are with our customers." Through the management of four Parker Stores, in addition to four hose manufacturing facilities across the company, Relevant Industrial helps meet the needs of clients in a new way.
"Really, it helps the guys who need something quick and fast," explained Wilcox. With an in-person experience, the customer can walk in and grab what they need or have a hydraulic hose component made for them, "We'll be able to build them right there on location and help them immediately," noted Wilcox.
Building a strong and positive relationship with vendors is also key to Relevant's mission, "The relationship with our vendors obviously is every bit of important as our customers," said Wilcox.
"Really what fluid connectors group is, you know, it's a very vast portfolio of products," noted Wilcox, "All the way from, you know, our hydraulic components which is hydraulic hose, adaptors, valves…to big industrial large bore hoses." These components are used by a variety of different industries, including transportation and food and beverage.
But one of the actions that really sets Relevant Industrial apart from traditional distribution is also being an alternative fuels distributor for MRO products, like CMG (compressed natural gas).
Latest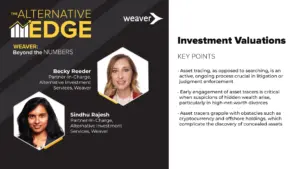 December 4, 2023
In this episode of The Alternative Edge, a Weaver: Beyond the Numbers Podcast, host Becky Reeder, an audit partner and co-leader of the alternative investments practice at Weaver, engages with Sindhu Rajesh, an Alternative Investment Services Partner with Weaver. They unpack the complexities of venture fund valuations, offering critical insights into industry dynamics and best […]
Read More