IoT in Retail Poised to Create New Efficiencies and Better Customer Service
The Internet of Things is changing our homes and our exercise routines—now it's set to revolutionize retail, providing consumers with a fully-integrated omnichannel shopping experience and better service. The IoT is a network of connected physical objects embedded with sensors that can communicate, analyze and share data. The Zebra 2017 Retail Vision Study included interviews with nearly 1,700 retail decision makers from around the world, and identified some fascinating insights about how IoT is poised to grow in the industry. For example, 78% of retailers say it is important to integrate e-commerce and in-store experiences—90% of retailers will implement buy online, pickup in store services by 2021.[1]
The IoT will create a better in-store experience as well. For example, 87% of retailers will deploy mobile point-of-sale (MPOS) devices by 2021, enabling them to scan and accept credit or debit payments anywhere in the store.[2] A recent report by Accenture sees the IoT impacting three major areas of retail. It will improve the customer experience by letting shoppers scan an item in-store and call up product reviews as well as personalized coupons. Second, it will improve the supply chain. Smart robots can replenish stock while smart shelves detect when inventory gets low. Third, the IoT can open new channels and revenue streams for retailers by allowing prices to change in real time or synching up in-store devices with consumers' in-home devices.
Latest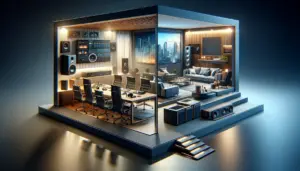 November 27, 2023
In this episode of "Pro AV Today," host Ben Thomas sits down with Audra Kinsley of Sonos Professional to unpack a topic that's causing (sound) waves in the audio industry: the fusion of commercial and residential audio systems. As we navigate through a landscape where consumer and professional audio worlds are increasingly intersecting, Sonos steps […]
Read More