Measuring with the Use of Fizeau Interferometers
The Fizeau interferometer is used to measure the shape and quality of optical surfaces at high precision.[1] It's important to remember that not all reference optics are created equal, as design and construction causes quality fluctuation. When using reference optics to determine the flatness quality of other flat optical surfaces, it's essential to have confidence in the quality and precision of the components in your Fizeau interferometer.
Fizeau interferometers have applications in measuring the speed of light, the manufacture of optical components, the validation of system performance, and the measurement of both flat and spherical surfaces. These applications are relevant in a number of fields, from telecommunications to astronomy. NASA itself offers a guide for the manufacture, alignment, and validation of system performance in Fizeau interferometers.[2] Their methodology affirms that having the highest quality measurement boils down to having access to the flattest possible reference optic. Without it, users cannot have confidence in the quality of the tools they rely on every day. That means essential certifications can be unreliable, test results can be corrupted, and valuable components can be manufactured imprecisely. So, ensuring consistent quality hinges on understanding how interferometers function.
Interferometers fall into two groups: two-beam and multiple-beam. They function by taking measurements in an optical arrangement of two or more beams that originate from the same point but pass through a beam-splitter, leading them to take different paths. One tests the object in question for aberrations, quality, and so on. The second beam waits for the other to return and cross paths, leading to interference that allows a viewer to see a high-quality image of the optic surface. This process relies on high quality reference optics for accurate information, as those of low quality can undermine the entire process.
Latest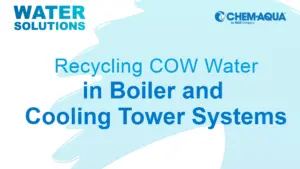 December 7, 2023
For the latest episode of ChemAqua's Water Solutions podcast, the focus was on an innovative approach to water conservation in the dairy industry. The show examined the potential of reusing Condensate of Whey (COW) water, a byproduct of dairy processing, and highlighted some of its economic and environmental benefits. Hosted by Dani Waddell, the informative […]
Read More