NIH Puts New Clinical Trial Guidelines Into Effect
Researchers requesting funding for clinical trials must determine if their research meets new criteria set by new NIH guidelines. The new guidelines breaks from the traditional understanding to also  include both basic biomedical research and basic social and behavioral research.
The switch has caused somewhat of a controversy, with some researchers claiming that the guidelines are too broad, and the new policies will increase researcher burdens. In September, more than 3500 scientists signed an open letter requesting NIH to delay the policy. Researchers conducting trials are now required to register and report results on ClinicalTrials.gov, but, if researchers impacted by the change do not select a funding opportunity that supports clinical trials when they apply to NIH, their grant is subjected to be rejected without a review.
Though some clarification from NIH in recent months has quelled many of the concerns expressed, some researchers have lingering doubts. "There's still a problem, but the problem is less dire than the original set of concerns that we had," says cognitive psychologist Jeremy Wolfe of the Harvard University.[1]
The guidelines go into effect on January 25th.
---
[1]
http://www.sciencemag.org/news/2018/01/nih-s-new-clinical-trial-policy-kicks-despite-concerns-basic-behavioral-researchers
Latest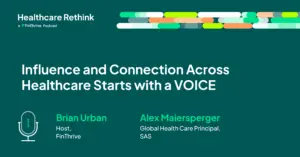 September 29, 2023
In the latest episode of the Healthcare Rethink podcast, presented by FinThrive, host Brian Urban sits down with Alex Maiersperger, the Global Principal Healthcare at SAS. Their conversation charts the role voice plays in influencing and connecting the healthcare industry. Maiersperger, who co-founded the Advancement League, shares his journey from being a healthcare optimist to […]
Read More