3 Products Leading American Agriculture In 2019
It has been a tumultuous year for American agriculture companies. Historic rainfall and international supply chain uncertainty has altered traditional import and export levels. However, this industry is still exporting more than $100 billion annually, and is predicted to easily clear that number this year.
Here are the three categories of exports leading to that export total:
Horticultural Products
Made up mostly of food used for consumption, horticulture products are forecast to total $35.30 billion in exports according to the United States Department of Agriculture (USDA). This figure would beat the $34.56 billion figure from the 2018 fiscal year.
Grains and Feed
The USDA predicts a total export amount of $31 billion in grain and feed for the 2019 fiscal year. This figure has been marked down from the initial forecast for the year and would finish under last year's total of $31.23 billion. The USDA says a decrease in corn exports specifically has contributed to this figure.
Livestock, Poultry and Dairy
This segment of the agriculture industry is expected to finish below its original FY 2019 forecast as well. The USDA currently estimates it will result in $29.94 billion in exports, down from last year's total of $30.53 billion and its original expectation for 2019 of $30.40 billion. According to the USDA, dairy product exports have increased but have been offset by decreases in beef and veal, hides and skins, and pork exports.
The biggest year-over-year drop off is expected for soybeans, which the USDA anticipates falling by $4.60 billion to a total of $17 billion. The department credits this drop to "lower demand due to African Swine Fever, weak prices, and continuing trade tensions with China."
Latest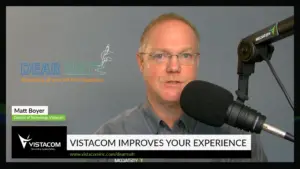 December 11, 2023
In a time when the AV industry supply chain faces unprecedented challenges, understanding its current status and future trajectory is crucial. In this week's segment of "Dear Matt," presented by Vistacom, host Matt Boyer, the Director of Technology at Vistacom, brings his over 30 years of experience in the audiovisual industry to the status […]
Read More