Are Food Delivery Services in Danger of Extinction?
Food delivery services grew exponentially during the pandemic as America dealt with lock-downs and restrictions over the course of 18 months. Come the end of 2021, it did not appear that things would slow down anytime soon. DoorDash was dominating the industry with an approximate 57% market share in 2021 and an all-time stock high of $246/per share in November of the same year.
However, as of April 2022, that price dropped a shocking 62% to $89/share and continues to trend low with a purchase price of $72 as of August 1st, 2022. These facts beg the question of whether or not food delivery services will continue to be a part of the fabric of daily American life or are they soon to be a thing of the past.
Industry expert Barbara Castiglia, Executive Editor at Modern Restaurant Management weighs in on the future of food delivery in the U.S.
The Dollar and Cents of Food Delivery
Castiglia began by speaking to the basic need of delivery drivers needing to be able to make a living by Googling "is food delivery dead" Castiglia found herself on YouTube watching a video hosted on the Doordash Tips channel entitled the same. The video follows a driver working across multiple delivery platforms examining the potential or lack thereof to make money.
"The people who have to get the food to the people who want the food and if they're feeling that they're not making money it's going to be harder to get people to do that," said Castiglia. The video shows viewers exactly what it's like in the day of the driver. It notes that many people do not realize the drivers are gig workers just like Uber drivers. Instead, many believe they are employees. This potential misunderstanding truly affects drivers especially when people don't tip.
When drivers don't get tips, they get a base delivery fee from DoorDash directly. These vary greatly and drivers are able to accept or decline orders based on what they will make. For example, one order featured was $8 for a 4-mile trip (that includes picking up from wherever a driver currently is to the final destination). At $2/mile, that's a good fare. Another order that was in this video was $5 for an 18-mile trip. At 28 cents/mile, a driver would lose money accepting this delivery.
So, What is the Future of Food Delivery?
The reality is that food delivery was a part of American culture before the pandemic, and it is undoubtedly going to stay after. Castiglia spoke to the fact that the industry grew exponentially during the pandemic due to circumstances and is now resetting to the realities of returning to normal. Big business investments in food delivery companies shed light on the future of food delivery.
"Amazon for Prime day offered their Prime members a year free of GrubHub which is about a hundred and twenty dollars in value. That's a couple of delivery meals," said Castiglia. This could encourage consumers who "are looking at increasing food prices, inflation, and fears of a recession and wanting to cut back and save" to order delivery services.
Kitchen United, most well-known for its ghost kitchens, is utilizing technology to address delivery logistics for restaurants, grocery stores, convenience stores, and malls.  The company has "fundraised over 100 million dollars. This is investors putting money in this space because they see the value of it and they see what people want. Food delivery wasn't something brand new. People want food delivery. It will be something that grows in the future but in different ways," Castiglia said.
Her final thoughts, "pay attention to those drivers, because those are the people with the boots on the ground, they're the ones who need to make a living and they're the ones that need to get the stuff to the places."
Latest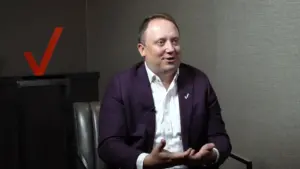 December 1, 2023
For a special episode of The Verizon Partner Network the focus was on the considerable role of partnerships in the Verizon Partner Program and the leaders shared their perspectives on the initiative. Their conversation brought about a lot of thought-providing context on the evolving telecommunications landscape. In today's era, collaboration and integration are key to […]
Read More