Best Served Hot: What Consumers Want in QSR
The Quick Serve Restaurant, or QSR, is quick and convenient: a great place to satisfy your appetite for food. But research shows that consumers are hungry for more, and by and large, QSRs are not feeding those needs. Why are customers unfulfilled even after a great meal? The most highly rated quick serve restaurants, according to information complied by PYMTS.com, are excelling in four areas of innovation.
In-store events: 97% of the top-rated restaurants offer participation in regular events sponsored by the company. It's no surprise that consumer engagement is key in today's culture.
In-store inventory: 83% of these high-ranking locations offer updates on inventory to its visitors. Information is key to QSR diners.
Accepts QR codes: Only 18% of all QSRs in the Restaurant Readiness Index accept QR code, but 43% of the favored locales offer this service.
Accepts contactless payment: 57% of the most innovative companies accept contactless payment, compared to 35% of their less innovative competitors.
The results show a clear preference for digital innovation in the industry, yet these areas are being ignored by most QSRs. In evidence of this trend, the Restaurant Readiness Index also revealed that the presence of time-saving in-store kiosks is an area of growing preference. It turns out that besides good food, the Q in QSR is a much-adored innovation in eating out for today's consumer.
Latest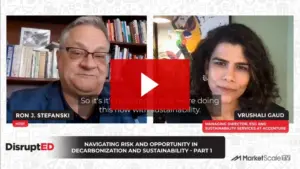 September 26, 2023
The global conversation has shifted dramatically towards decarbonization and sustainability in recent years. With the world experiencing unprecedented levels of disruption, from 5G technology to the challenges of a pandemic, the urgency to address climate change and its implications has never been more palpable. Although most business leaders see the vision of Sustainable Development […]
Read More