Deerland Probiotics & Enzymes Hires Vice President of Sales-Americas, Expands Executive Team
KENNESAW, GA (November 18, 2020) – Deerland Probiotics and Enzymes has announced the hiring of a new vice president of sales-Americas as well as the creation of a new executive level position for product development and supply chain.
Michelle Cook has been named the company's vice president of sales for the Americas region. Cook brings more than 25 years of experience leading sales teams in the OTC pharmaceutical and dietary supplement industries, most recently with DuPont Nutrition & Biosciences. She will oversee Deerland's team of business development managers as they serve customers across the dietary supplement, food and beverage and pet nutrition industries.
With the addition of Michelle Cook as vice president of sales, Tod Burgess, who previously held the position for more than 20 years, has moved into the newly created role of vice president of product development and supply chain.  In this role, Burgess's expertise will be harnessed to optimize the up-front product development process and supply chain continuity.
Scott Ravech, CEO, comments, "The addition of Michelle Cook to our staff along with Tod's new role as vice president of product development and supply chain position demonstrates Deerland's commitment to placing the best people in critical roles in order to provide maximum value for our customers."
Deerland Probiotics & Enzymes, based in Kennesaw, Ga., specializes in developing science-backed solutions that benefit microbiome health, using probiotic, prebiotic and enzyme technology.  The company offers a line of unique, clinically validated branded products, including DE111®, PreforPro®, ProHydrolase®, Solarplast®, Glutalytic® and Bifolac® probiotic strains.  Deerland collaborates with customers to develop innovative and often proprietary solutions in the dietary supplement, food and beverage, sports nutrition, and companion animal markets. In addition to branded ingredients and customized formulations, Deerland offers full turnkey products for private label through its YourBrand® portfolio.  The company's manufacturing services include bulk blends, capsules, stick packs and tablets, as well as bottling and labeling. To contact Deerland Probiotics & Enzymes, call 800.697.8179 or visit www.deerland.com.
Latest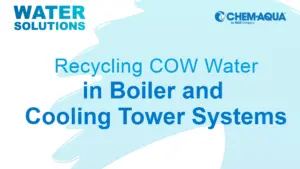 December 7, 2023
For the latest episode of ChemAqua's Water Solutions podcast, the focus was on an innovative approach to water conservation in the dairy industry. The show examined the potential of reusing Condensate of Whey (COW) water, a byproduct of dairy processing, and highlighted some of its economic and environmental benefits. Hosted by Dani Waddell, the informative […]
Read More