ELIMINATE MOISTURE IN FROZEN FOOD PROCESSING WITH DEHUMIDIFICATION TOOLS
Process freezing is a high-volume activity that's fast-paced because products need to keep moving. The system must operate on-time to stay profitable. That is why humidity is such a threat, to the product and to the entire process. Humidity has the potential to halt production to defrost evaporators or remove ice from a variety of surfaces like conveyors, floors, and walls.
Within frozen food processing, temperature control is vital to keep the product fresh and frozen. All the steps have a vast temperature range—anywhere from 50 to -50 degrees F. Moisture becomes a problem because of the changing between so many temperatures and environments. Ultimately, causes there to be too much humidity in the air.
Humidity Threatens Frozen Food Processing
There are multiple steps to the frozen food process, and throughout the whole process, humidity needs to be controlled, for health and safety concerns. For example, when frozen goods are in powdered form, there is a concern for bug infestation.
In almost every step of the process, the product receives a shocking temperature change. Humidity then causes condensation. While you can't see humidity, the signs that it's there are visual. Therefore, ice can form on fixtures and equipment. Ice pickles develop on cold surfaces. Mist may even appear in the air. If your conveyors get bogged down with ice, it may halt production until it can be removed.
These are how extreme those temperature changes can be:
A spiral freezer starts at -40 degrees
Next, it hits the packaging area at 50 degrees
Then items are conveyed on a belt at -15 degrees for storage
Exiting storage, the packages go into an area at 50 degrees then move to a loading dock at the same temperature
Spiral Freezers
Spiral freezers play a significant role in the production of frozen foods. With inlet and outlet conveyor openings, it goes through multiple temperature changes before ever making it to storage. Once the product is ready to ship, it comes from freezer storage in skids through one access door. Then it lands at the loading dock. This door is a high-speed, automatic door. There is an airlock with strip curtains on both sides. Spiral freezers do have specific features to remove humidity from the air. It may not be enough to balance the heat load, which is determined by four factors:
Infiltration: Air infiltrating the system
Product: heat removed to bring the product to design conditions
Internal: heat from motors, people, lights
Transmission: Surface heat transfers
When infiltration into the spiral freezer occurs, production efficiency is compromised. Thus, a deeper dive needs to occur to understand the proportion of latent to sensible heat. One way to prevent moisture in the process is with dry zones. These would be located at all access points. With dehumidified air on the exterior of the freezer, fogging and condensation is preventable.
How to Control Moisture: Dehumidification Tools
To protect frozen food processing from moisture and its impact, plants need to improve their tools. When moisture is eliminated, there are no stops in production causing products to be shipped on time. If humidity is costing your plant money, it's time to look into dehumidification tools.
Frozen foods bring convenience to modern life and appeal to almost every type of consumer. With this demand for fast and ready to heat meals, there has been substantial growth in the number of production and storage facilities. To keep this from occurring, rely on Polygon dehumidification solutions. With logistics and having so many changing environments for the product to go through, you need help eliminating moisture. Desiccant dehumidifiers are the choice of food manufacturers to keep their logistic lines moving.
Read more at polygongroup.com
Latest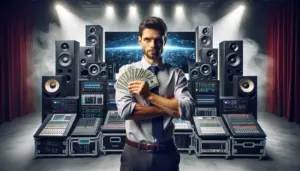 December 8, 2023
Mastering AV sales strategies in a global professional audio-visual (Pro AV) market, poised to reach $79.2 billion by 2028, requires much attention to detail. The surge in demand from corporate, government, and institutional sectors, driven by the need for enhanced productivity and efficient working environments, gives AV sales pros a lot of opportunity. In […]
Read More