How Restaurants Can Build Rapport With Inflation Relief
Key Insights:
Restaurant prices are experiencing the biggest increase since 1981.
Average menu prices have increased 7.7% between June 21-22.
Some restaurants are deploying inflation breaks to secure loyalty.
Inflation is hitting us at the gas pump, the grocery store aisle, healthcare, and, unfortunately, the restaurant bill. Barbara Castiglia of Modern Restaurant Management Group explores the price changes that restaurants are discussing and some breaks going to the customers. Castiglia said, "it's a fever pitch right now. More people want to go out, eat, and travel, but according to the Alignable Small Business Report, '50% of independent restaurant owners feel at risk. They feel they aren't going to make enough now to stay afloat in the fall.'"
Restaurant owners understand the constraints their guests are feeling. They're customers, too. When menus increase prices on appetizers and desserts, it changes the decision process for what people order. The price hikes are "making people choose what they're going to eat," said Castiglia. The alternative, and preferable way, is to order what sounds appetizing.
National Menu Hikes
The National Restaurant Association reported on dining prices between June 2021 and June 2022. The article stated, "According to data from the Bureau of Labor Statistics. Average menu prices increased 7.7% between June 2021 and June 2022." 7.7% is the most significant increase in restaurant pricing since 1981.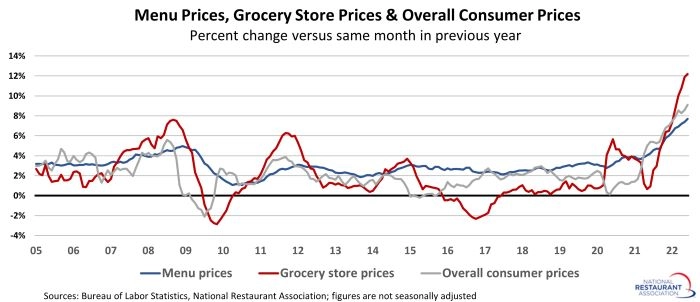 Restaurant price hikes are a multifaceted issue. Increasing supply and labor costs are significant factors, which increased by 15.6% and 10.1%, respectively. Across the nation, menu price increases vary from 7.1% to 8.1%.
Relief to Build Rapport
Several restaurants are working to offer inflation relief to guests. "Yes, it's a great marketing move," said Barbara Castiglia. According to Restaurant Business Online, the Nashville-based chain O'Charly's announced an "Economic Stimulus Package." The 'package' includes an 8.6% discount for online orders during June. The Italian chain Bertucci's has menu prices on ten items for a limited time. "Things like this show the customers that the restaurant… cares about them and wants them to come back in the long term," said Castiglia.
Where restaurants can, they are passing savings on to patrons. Restaurant Business Online reported that the BBQ chain Mighty Quinn's lowered two popular entrees by about 9%. It was able to decrease the price after protein costs fell. Castiglia believes "when [guests] they think of where they're going to dine out, they'll say 'I want to go back to the people who helped me when I needed it.'"
Not all restaurants are taking that position, though. The article also cited that Subway is no longer accepting coupons, and McDonald's is moving away from its $1 drink price. According to Mashed, fast food restaurants aren't escaping the rising prices. Burger King announced that it's decreasing portion sizes and shifting its discount menu selection. Other chains will have to move as prices change for irreplaceable ingredients. For example, key fried chicken ingredients, chicken, flour, and oil, are up by 20%. With rising prices everywhere, restaurants will have to remain savvy.
Latest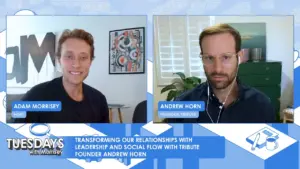 November 28, 2023
Can relationships be transformed through leadership and social flow? Navigating the intricate web of digital relationships can be a tricky proposition. Tuesdays with Morrisey's Adam Morrisey uncovers the transformative impact of emotional recognition in the workplace with Andrew Horn, the mastermind behind Tribute. This podcast edition unravels the story of a platform redefining how […]
Read More