How Starbucks went from a single coffee bean store to an $80 billion business
In its 47-year history, Starbucks has transformed from a single coffee bean store in Seattle to a 30,000 cafe international coffee power house. But massive expansion hasn't come without growing pains.
It's no secret that Starbucks has been struggling to get U.S. customers to frequent its cafes more often. While sales have been positive, the number of customer visits continues to stagnate.
Latest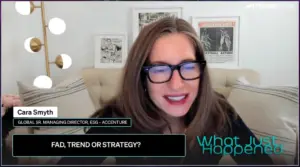 November 30, 2023
The world is in an era where sustainability and responsible retail business practices are increasingly crucial. For the latest episode of "What Just Happened," host Christine Russo further explored the hows and whys of this pressing issue by interviewing Cara Smyth, Global Senior Managing Director for ESG and Responsible Retail at Accenture, and Chair […]
Read More