Keeping Up with Food Demand in the Covid-19 Era
Evette Awa – Vecna Robotics – In the Food and Beverage industry, there's been a shift in a number of areas for companies globally. At this point in time, companies have had to re-examine their operational strategies and sources of supply. I personally had to take a step back to learn how organizations are responding to limited supply, proliferation of SKUs, and extended shipping times.
I've seen some bakeries, for example, move to modularization methods to increase flexibility while producing lesser quantities, but maintaining diverse types of baked goods. This has helped keep costs low with no need to invest heavily in infrastructure changes.
One global company tripled its output by switching to local suppliers. On the other end of the spectrum, another has increased their outsourcing partners to keep up with demand. Small businesses have definitely had a challenge with getting their food products out to customers because of limitations and allowed quantities with suppliers that also supply for larger organizations.
With all that being said, we can't deny the need for automation in Food and Beverage Supply Chain and organizations need to be open to learning more about options to strengthen their response to customer demand. According to a Mordor Intelligence Industry Report, 94% of food packaging operations are already using robotics in comparison to about a third in food processing. Here are my three recommendations when looking for an AMR (Autonomous Mobile Robot) solution:
Scalability – Find a solution that is scalable and with a company whose vision you believe in. Projects come and go, but building a product from its core will help you align your strategies as expansions happen. The core technology will remain consistent, continuously innovating as you grow.
Safety – Look for safety systems that meet PLd (Performance Level D) safety requirements and consider technologies that have a layered safety architecture.
Productivity – Production speed and efficiency are goals of any organization. It is important that you build flexibility and safety at the same time.
According to a Food Logistics article, the top trends seen in grocery supply chain were focused in: Compliance, safety, and productivity. Covid-19 has presented its own challenges for getting packaged and fresh foods out the door and onto shelves. Adding automation, such as WMS, ASRS, and autonomous vehicles, offers a variety of added benefits to the recommendations above.
Latest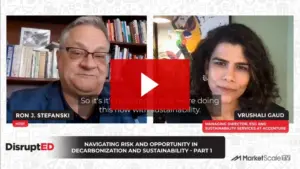 September 26, 2023
The global conversation has shifted dramatically towards decarbonization and sustainability in recent years. With the world experiencing unprecedented levels of disruption, from 5G technology to the challenges of a pandemic, the urgency to address climate change and its implications has never been more palpable. Although most business leaders see the vision of Sustainable Development […]
Read More