MarketScale Podcast Panel: How Are Digital Communities Transforming Business?
This is a MarketScale Podcast Panel, where we bring on key thought leaders from some of the fastest growing markets to participate in a Socratic seminar-style discussion, breaking down a timely topic for tangible insight.
How are digital & online communities shaping the way businesses not only thrive, but enter their industry? How can social media platforms drive branding initiatives, cultivate consumer insights, and spur important financial decisions? What do consumers look for in their online communities? On our first MarketScale Podcast Panel, we set our sights on answering these hard-hitting questions for two specific industries– Hospitality and Food & Beverage. With these industries specifically, the sense of urgency and itching for convenience on the consumer side is at a high point; consumers are looking to their Twitter feeds, Instagram influencers and blog-like sites to be entertained, heard and inspired.
We're joined by three panelists, each providing a unique take on the impact of online communities on their business and industry: Sarah Dusek (Co-founder of Under Canvas), Sarah Dandashy (Founder of Ask A Concierge), and Megan Sprague (Communications Associate for Wingstop). "When we've had guests who've shared what an incredible experience they've had with staying with us, they've often said to us 'when are you going to here or when are you going to be here,'" Dusek said. "Communication from our guests has helped us think of where we want to take our business next."
They break down the blessing and "curse" that is maintaining authentic relationships with consumers online, examples of interactions where their online platform created tangible change, and how they each approach integrating online communities to their business platform. "When you have an exciting tweet or you're happy about something and tweet Wingstop and they respond back, it's kind of like 'oh my gosh I wasn't expecting this,'" Sprague said. "When you have something negative to say or you have a complaint and you say something at Wingstop, you're definitely expecting a response, and time is of the essence there."
And of course, Sarah, Sarah and Megan give their advice on how and why businesses, small and large, should look to social platforms as the future and the now of branding, marketing and conveying your company's vision. "I think it's also allowing, certainly in regards to smaller businesses, a lot more people are allowed to be entrepreneurial because they're able to get out there," Dandashy said. "Again with that immediate feedback, if they're doing it well, they're able to bounce ideas off of their little community and as their community grows they're able to just feed the machine."
Follow us on social media for the latest updates in B2B!
Twitter – @HospitalityMKSL
Facebook – facebook.com/marketscale
LinkedIn – linkedin.com/company/marketscale
Latest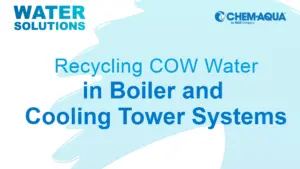 December 7, 2023
For the latest episode of ChemAqua's Water Solutions podcast, the focus was on an innovative approach to water conservation in the dairy industry. The show examined the potential of reusing Condensate of Whey (COW) water, a byproduct of dairy processing, and highlighted some of its economic and environmental benefits. Hosted by Dani Waddell, the informative […]
Read More