Tacros Are Taking the San Francisco Foodie Scene by Storm 
Fans of tacos and croissants rejoice, there's a new mashup just for you. San Francisco bakery Vive La Tarte has started a viral food storm with the latest concoction that was posted on their Instagram page in January. The new menu item touts a croissant "shell" that is filled with one of three taco fillings: pulled pork, chile chicken with avocado or barbecued jackfruit, and the chefs at Vive La Tarte have also mentioned the possibility of a breakfast version.
Jimmy Houghton, creative director at Viva La Tarte, says it took about 2 months of trial and error before rolling it out to the public. "We took our regular croissant dough that we make and we tried to fill it with pulled pork or with chicken, and we found that the flavors didn't combine well. The pastry was way too rich, way too buttery, way too sweet," he says. "We went back to the drawing board and we said it needs to be saltier, needs to be a bit more savory."[1]
If you want to try it out, you'd better act fast: Vive La Tarte's Instagram account says that the $12 tacros have been selling out fast, often as fast as 2 hour after opening the doors.
[1] http://www.sfgate.com/food/article/tacro-croissant-taco-vive-la-tarte-ferry-building-12544306.php
Latest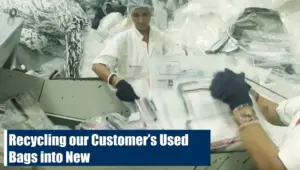 December 6, 2023
This video focuses on EcoLOK4, a groundbreaking product by CONTROLTEK that exemplifies innovation in sustainability. It highlights the process of transforming landfill waste into new deposit bags, with 90% of each bag's material being repurposed trash. This initiative not only reduces waste but also closes the sustainability loop, demonstrating CONTROLTEK's commitment to environmentally friendly […]
Read More