Turkey Wednesday: A Look at The Busiest Day of the Year for Grocers
While shoppers and retailers make their preparations for Black Friday and Cyber Monday, there is one day each year where millions of Americans make perhaps their most integral purchase of Thanksgiving week.
According to Placer.ai, a firm that tracks shopper traffic with machine learning, the Wednesday before Thanksgiving marks the highest day for visits for several grocery chains.
The firm tracked data for both 2017 and 2018 at some of the nation's largest grocers. At Publix, Placer.ai reported that traffic on the day before Thanksgiving rose 87.2 percent and 85.2 percent above the store's baseline. The past two 'Turkey Wednesdays' have been the highest-trafficked days in the store over the last two years.
At Safeway, another major grocery chain with locations mostly on the West coast, the data is similar. According to the Placer.ai research, Safeway's traffic on the Wednesday prior to Thanksgiving rose above its baseline traffic number by 78.4 percent and 75.8 percent in 2017 and 2018 respectively.
Like Publix, these days were the most trafficked days at the chain over the past two years.
While Turkey Wednesday is undoubtedly a major boon to grocers across the United States but some chains still have dates that surpass it in annual traffic, even if just modestly. For example, according to Placer.ai, Stop & Shop and Kroger's prior two Turkey Wednesdays have been the second- and third-most trafficked days, beaten only by one day each.
The only outlier according to the research was Wegmans, which had a significantly higher volume on Sunday, Dec. 23, 2018 as well as the Saturday prior to Easter 2018.
Latest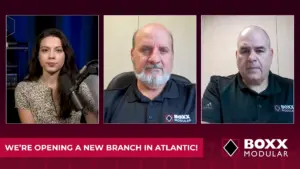 December 4, 2023
In an era where construction innovation is reshaping the industry, modular construction's growth continues to rise. In this episode of Built Modular, Boxx Modular's strategic expansion into Moncton, Atlantic Canada takes center stage. Host Gabrielle Bejarano welcomes Charles Landry and Ray Girouard to explore the implications of this venture. Bejarano, Landry, and Girouard discuss […]
Read More