What Brand Intimacy Means for Consumers
What immediately pops up in your head when you hear the word intimacy?
Definitely, not food, said Barbara Castiglia of the podcast "Modern Restaurant Management." But that may change thanks to a dedicated study by MBLN that tracks trends and researches the relationship everyday people have with food brands.
"The MBLN for 12 years has been focused on what they refer to as brand intimacy studies. What they do is they rank brands … based on emotion," said Castiglia.
The agency looked closely at over 600 brands for their analysis and examined over a billion words to determine the companies or intimate brands that elicited more positive feelings from consumers. They released the Brand Intimacy Study 2022 earlier this year and Castiglia noted their category for fast food chains. She cited companies like Krispy Kreme, which currently ranks number one in regard to brand intimacy, per Yahoo News, along with Costa Coffee, Starbucks, Cinnabon, Outback Steakhouse, and McDonald's. Those brands were among the top ten, according to the study.
Additionally, she highlighted another aspect of the study, which looked at several words consumers used to showcase their relationship to said brands and their products. And not to much surprise, given modern phone technology, consumers aren't always using words to indicate such.
"Interesting, the top keywords for the top three [brands] were emojis … so not even really words but this is how people were expressing their connection to a brand," said Castiglia.
But evidently, fast food didn't even rank that high when it came to the overall categories that MBLN studied. Castiglia said fast food fell in the "bottom 40 percent of all industries."
The MBLN surveyed 19 different industries and fast food ranked 12th. The top sector was media and entertainment. Within that industry, Disney clinched the No. 1 spot, per The Walt Disney Company.
MBLN cited that nostalgia was a driving force behind consumer appeal to Disney and that over 55 percent of consumer commentary about the company fell within intimacy.
Castiglia said an eye-opener in the study was how many of the top-performing companies and brands were in the "indulgence" category. She also mentioned that there was a shift toward comfort food during the peak of the pandemic, and follow-up studies in the coming year or two can likely reveal another shift.
Conclusively, the study revealed that certain brands have different stakes when it comes to performing well amongst their consumers, said Castiglia. So much so that many of these brands even outperform the Fortune 500 companies when it comes to profit, via MBLM.
This fact means that it's vital for brands to learn a lot more about their consumers and the types of connections they have with them. Castiglia added that this connection is so strong that it shows consumer loyalty that will benefit these brands in the long run.
"Interesting to note that what these really kind of teach people is how people engage with a brand, and one great phrase that came out of this little survey is: 'Consumers are willing to pay more for intimate brands and less willing to live without them.' So that just shows you the deep connection people have for certain brands," said Castiglia.
Latest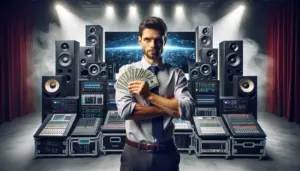 December 8, 2023
Mastering AV sales strategies in a global professional audio-visual (Pro AV) market, poised to reach $79.2 billion by 2028, requires much attention to detail. The surge in demand from corporate, government, and institutional sectors, driven by the need for enhanced productivity and efficient working environments, gives AV sales pros a lot of opportunity. In […]
Read More