What Makes Pumpkin Spice Season a $500 Million Industry
Much like Halloween decorations appearing in stores during the month of August and Christmas décor taking up prime retail real estate in October, the arrival of beloved pumpkin spice products continues to bring consumers joy earlier and earlier each year. The spice made up of cinnamon, nutmeg, cloves, and ginger has become synonymous with fall in the United States.
Industry expert Barbara Castiglia, Executive Editor at Modern Restaurant Management shares news of major players who have already introduced their fall menus that include pumpkin spice offerings: 7-Eleven, Krispy Kreme, and Dunkin' Donuts. "Starbucks has not yet said when they are going to debut their products but expected pretty soon because the dates over the past few years have been more toward the end of August," noted Castiglia.
So, what is the rush? Why does this popular fall product continue to debut earlier in the summer?
Economics – $500 Million Reasons to Embrace the Trend
Castiglia notes that the first motivation is "obviously, financial – they drive foot traffic. The flavor and the excitement of pumpkin spice bring people into the stores. Bloomberg found that the so-called "PSL," pumpkin-spiced latte effect, in 2021 Starbucks had 10% week-over-week sales in the first week that they introduced it."
For Dunkin' the numbers were not quite as high but they were not too shabby either with an 8.4% sales increase when they introduced its pumpkin spice drinks over the same week in 2019. And they continued to hold onto increased sales during the next week, "with Dunkin' foot traffic up 3% on the day of Starbucks' Pumpkin Spice Latte release on August 24" (Yahoo Finance).
This could be why Dunkin' decided to offer its fall lineup even earlier this year, simply to add another week where the company is not in competition with Starbucks' infamous pumpkin-spiced latter, or more commonly referred to as a PSL. In fact, in 2019, according to Nielsen data, "pumpkin-flavored grocery products reaped $511 million, which was 4.7% more than 2018."
It's difficult to translate these numbers specifically to prepared pumpkin products at places like Starbucks and Dunkin' as stores do not publish data on flavor-specific sales. However, there is no doubt that money is being made – the consumer demand is simply undeniable.
Understanding the Consumer's Relationship with Pumpkin Spice
To understand the flavor's popularity and the drive of companies to continue finding products to pair the flavor with, it is necessary to understand the relationship consumers have with the flavors themselves. In fact, marketing specialists note that there are multiple reasons for its popularity including; a time limit on availability, positive associations with the fall and related holidays, and indulging a sweet tooth.
On appearance, these things may not seem to be a big deal but Castiglia notes that consumer expectations and needs are at the forefront of pumpkin spice popularity noting that people look forward to pumpkin spice coming back into their lives after a tough summer.
"It hasn't been the greatest summer. People are concerned about where they're spending their dollars and they want to spend them wisely… a pre-pandemic study by OnePoll and Green Mountain Coffee Roasters, 80% of Americans love pumpkin spice. And 68% said they really crave it before the season even starts," noted Castiglia.
When it comes to speaking about the future of pumpkin-spiced mania, Castiglia does not see the trend ending anytime soon stating that she thinks "we'll see more and more of this and maybe next year it will be even earlier in August."
"It's something that people are looking to as comfort and maybe kind of a goodbye to a summer that may not have been the greatest and hello to the welcoming, nurturing fall." Here's to enjoying the pumpkin spice beverages and products that give us joy, bring us comfort, and help us look forward to better times ahead.
Latest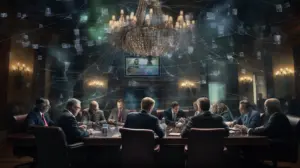 October 3, 2023
In August 2023, the National Institute of Standards of Technology (NIST) put out a request for comments on the Preliminary Update from the Internet of Things Federal Working Group (IoTFWG), which aims to provide the nation direction on how to improve IoT adoption and expand its use cases for the future of industrial, corporate, […]
Read More