The Latest Healthcare AI Tools Should Prove Valued Assets for Resource-Limited Settings
Recent studies show a significant increase in CT and ultrasound examinations over the past decade. GE's recent awarding of a $44 million grant from the Bill & Melinda Gates Foundation to develop AI-assisted ultrasound technology aims to enhance user-friendliness and improve healthcare outcomes, especially in low to middle-income countries. Additionally, AI tools like DermAssist by Google Health are emerging, allowing users to upload skin condition photos for analysis, indicating the potential of healthcare AI tools in direct patient care and as clinical decision-making support systems.
Can emerging healthcare AI tools, like GE's handheld ultrasound and Google's DermAssist, transcend skepticism to become trusted extensions of clinical practice?
Arpita Hazra, MD, MPH, Clinical Patient Safety Data Specialist at Healthcare Risk Advisors, emphasizes the potential of these tools to revolutionize care, especially in resource-limited settings.
"I see that eventually, this tool can do a lot for us if it works the way it promises," Dr. Hazra said, underscoring the critical need for reliability, consistency, and integration in healthcare innovation.
Article by James Kent.
Latest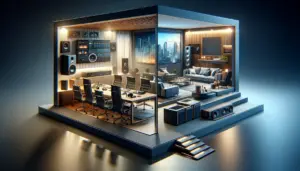 November 27, 2023
In this episode of "Pro AV Today," host Ben Thomas sits down with Audra Kinsley of Sonos Professional to unpack a topic that's causing (sound) waves in the audio industry: the fusion of commercial and residential audio systems. As we navigate through a landscape where consumer and professional audio worlds are increasingly intersecting, Sonos steps […]
Read More