Amazon's One Medical Acquisition is Critical for Proving Subscription-Based Primary Care
Affordable and accessible healthcare is a problem that has plagued Americans for decades. For companies like Amazon, this dysfunction is a prime opportunity to further disrupt another legacy market.
Amazon has announced plans to buy One Medical, a subscription-based healthcare company, for nearly $4 billion U.S. dollars. One Medical provides 24/7 on-demand virtual care coupled with the option to get same-day and next-day in-person appointments in major cities across the U.S.
This is just the next big announcement in a string of high-profile ventures as more and more companies look to primary care as the next field for business opportunities. While it's yet to be seen if these reimagining of primary care business models will turn into operational or patient-side savings, the need for some sort of change to our current way of administering healthcare is evident.
"It has become more and more expensive to access doctor visits, to have hospital admissions. In fact, the cost of healthcare is so expensive it puts it out of reach for many Americans," said Melanie Musson, insurance expert with Clearsurance.com.
According to the U.S. Census Bureau, approximately 28 million Americans did not have healthcare in 2020. That number may seem small; however, it does not reflect the true reality of healthcare access. For one, it does not include Medicare or Medicaid recipients who often have limited access to care. It also does not include individuals with low-cost insurance who cannot utilize services due to high deductibles and co-payments.
The American reality is that many people cannot afford healthcare due to its high costs. This particularly affects underserved communities; low-income individuals that do not qualify for Medicare or Medicaid; and people who live in rural areas.
One of the more popular disruption models, subscription-based primary care, has captured media and investor attention. One Medical was one of the most prominent companies in this space, and now with Amazon's purchase of the company, on-demand primary care is getting unparalleled resources to further develop and prove the concept.
"This step is a big step towards a subscription-based healthcare model. This type of model is quite different from a private insurance model or a Medicare/Medicaid type of model. It could revolutionize the access to healthcare for Americans that currently do not have access to good healthcare," Musson said.
Faisal Khan, Senior Legal Counsel for private and public healthcare clients at Nixon Gwilt Law, agrees that Amazon's move is a game-changer for the healthcare industry.
"Amazon's business model, which is really defined by efficiency and personalization, is informed by vast amounts of consumer data," Khan said.
Khan believes the trend of non-healthcare companies entering the healthcare arena will continue. And more importantly, he believes it's a good thing and will help to expand access to healthcare for underserved populations.
"Ultimately, non-traditional players entering into the market space will exacerbate or increase the speed at which traditional providers are looking to adjust their ways of delivering care, their operations and taking advantage of opportunities to think broadly about how they could augment or innovate their care delivery systems so that they can have a greater impact on patient outcomes."
The potential for subscription-based healthcare to improve care and patient outcomes is due to many factors. For one, it has the potential to increase communication and coordination of services. Secondly, normalizing virtual visits whenever possible lowers costs and increases patient access. Finally, it allows for the successful collection and analysis of consumer and patient data.
"Vast amounts of consumer/patient data can inform care paths, it can create new care paths and data aggregation and analytics can be used to create new patient-specific care paths and also disease-specific care plans and care paths," Khan said.
With Amazon and One Medical at the helm of subscription-based primary care, collecting and analyzing more patient-side data, but with the level of insight of today's online consumer, will no doubt become a part of the healthcare process. The most important puzzle piece is doing all this while serving to improve care and outcomes first and foremost, as well as reduce the nation's bloated healthcare budget. Not only that, the acquisition is sure to open the door for more non-traditional companies to enter the healthcare delivery space while utilizing technology to bring new solutions to age-old challenges.
Latest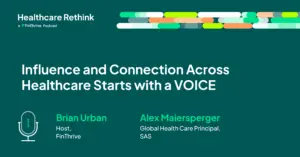 September 29, 2023
In the latest episode of the Healthcare Rethink podcast, presented by FinThrive, host Brian Urban sits down with Alex Maiersperger, the Global Principal Healthcare at SAS. Their conversation charts the role voice plays in influencing and connecting the healthcare industry. Maiersperger, who co-founded the Advancement League, shares his journey from being a healthcare optimist to […]
Read More