Are Cell and Gene Therapy Innovations Ready for Widespread Use?
The challenges healthcare executives and administrators face are constantly changing. Host Kevin Stevenson talks with the heroes behind the heroes that are enabling hospitals, urgent care centers and telemedicine operators to spend their time tending to patients, while they handle the logistics.
Treatment of diseases like cancer and HIV is hitting a new frontier with cell-based therapy. This new therapy invigorates the medical world, but it's not widely accessible yet. Discussing the breakthroughs in these treatments, I Don't Care host Kevin Stevenson spoke with immunologist Dr. Chris Xu, CEO of ThermoGenesis, a medical device company that's a pioneer in the field.
"Cell-based therapy came about 13 years ago, and we've been fostering the field around cord blood, with 90% of FDA approved cord blood stored in a nitrogen system we developed," Dr. Xu explained.
That was the company's beginning, but it has aspirations to do much more. That requires a shift in treatment perspective. "We've long used drugs to treat illnesses, but cancer is much more complex. The newly approved therapy takes a patient's T-cells, which are part of the immune system. It reprograms them to recognize cancer and fight it. It's the future of medicine," Dr. Xu said.
"Using someone's T-cells turns their body into the best defense mechanism against disease." – Dr. Chris Xu
Thus far, Dr. Xu reported that patients with leukemia and lymphomas have a 93% response rate. He also noted that cancer treatment is just the beginning. Over 1200 trials targeting every type of cancer are ongoing.
HIV is another disease where cell gene therapy has promise. "We discovered that a small percentage of the population doesn't carry the receptor for HIV, which is necessary for the virus to enter a cell. We can modify cells not to have it, making the patient HIV resistant."
While the promise of new treatments is here, Dr. Xu noted there are two big impediments. One is cost, with treatments costing as much as $500,000. The other is that patients may no longer have T-cells due to radiation, chemo, or other issues. That's why he recommends storing cord blood for future use.
Follow us on social media for the latest updates in B2B!
Twitter – @MarketScale
Facebook – facebook.com/marketscale
LinkedIn – linkedin.com/company/marketscale
Latest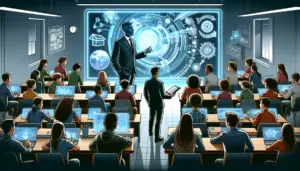 November 27, 2023
In an era where education stands at the crossroads of tradition and innovation, the potential value of thought leadership becomes the guiding star for progress. "Just Thinking" dives into this potential with host Kevin Dougherty and guest Evan Edwards, a Professional Learning Specialist at 806 Technologies who exemplifies the transformative impact of visionary guidance […]
Read More