ASC Trend in Healthcare
Ambulatory surgery centers (ASCs) offer the convenience of having surgeries performed outside the hospital setting and often allow patients to go home on the same day. ASCs are becoming more popular as they have shown to improve patient care and reduce costs.1 In addition to the potential for significant cost savings, other factors driving the trend to ambulatory surgery centers include improvements in surgical techniques, implant devices, and pain management.
Study found no increased risks
Dr. Ast and colleagues conducted a study at the Rothman Orthopedic Institute to compare patient outcomes and costs for in-patient hip and knee replacement surgeries to those performed in an ambulatory surgery center. The findings indicated that there was no increased risk of 90-day complication rates or readmission rates for patients who were discharged the same day compared to patients who had the same procedures and stayed in the hospital.2 One group of patients had their procedure done at an ASC while the second group had their surgery at a university medical center. The patient population between the two groups were matched by procedure, age, sex, body mass index and health assessments. In each group, 77 patients underwent total hip replacements and 49 had total knee replacements. The average length of stay in hospital was 8:09 hours for the ambulatory group, compared to 23:24 hours for the in-patient group. In summary, there were no meaningful differences between the two groups regarding complication and readmission rates.
There was a significant difference between the two groups regarding the total cost of the procedure. Average costs per patient for ASCs was $11,677 versus $19,361 for the in-patient group. Costs associated with the procedure included staffing, medications, implant, and postoperative care. Researchers did note however, that ambulatory surgeries are best for patients without any preexisting health conditions, don't require special medications after surgery, and have caregivers who can support their recovery at home.
AliMed Has Your ASC Covered
AliMed offers a wide range of medical devices and clinical furnishings to outfit your ASC O.R. Click here to learn more.
References
1.https://www.ascassociation.org/advancingsurgicalcare/aboutascs/industryoverview/apositivetrendinhealthcare
2. https://scienmag.com/no-increased-risk-of-complications-for-joint-replacement-in-ambulatory-surgery-setting/
Latest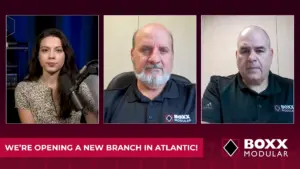 December 4, 2023
In an era where construction innovation is reshaping the industry, modular construction's growth continues to rise. In this episode of Built Modular, Boxx Modular's strategic expansion into Moncton, Atlantic Canada takes center stage. Host Gabrielle Bejarano welcomes Charles Landry and Ray Girouard to explore the implications of this venture. Bejarano, Landry, and Girouard discuss […]
Read More