Bariatrics Safe Patient Handling Program
With the admission of bariatric patients increasing, there is considerable pressure on healthcare facilities to deliver dignified, quality care that is safe for both the patient and caregiver. Because bariatric patients pose significant challenges due to their size and limited mobility, they require assistance during most daily activities. Further, their weight puts them at a greater risk for falls and injuries. And due to their co-morbidities, they are also more vulnerable to health complications during their hospital stay.
So, how can organizations continue to offer the best care possible for bariatric patients?
Bariatric Patient Risks
Bariatrics is the science of providing healthcare for obese patients. Obesity has been noted as one of the most serious health problems facing the world. According to the World Health Organization (WHO) there are over 650 million obese people in the world.1
Typically, a patient is considered bariatric using the Body Max Index (BMI). The WHO identifies those with a score over 30 as obese, and those with a score over 40 as severely obese. A patient may also be considered bariatric if they are more than 100 lbs. overweight or have a total weight of more than 300 lbs.
The risks are complex for these patients and put them at a higher chance for further complications, including the possibility of premature death. According to the National Institute of Diabetes and Digestive and Kidney Diseases (NIDDK), obesity is linked to a myriad of health problems, from diabetes to heart disease to certain cancers.2 Secondary to heart and kidney failure, bariatric patients may also experience bodily congestion due to fluid retention and poor circulation. Congestion causes leaking of fluid from pores in some situations, called diaphoresis, making the skin highly vulnerable to infections and tearing.
Risks to Healthcare Providers When Caring for Bariatric Patients
As noted, the patient's size can be one of the most significant risk factors for those who provide care for these patients. Helping patients with activities such as hygiene, ambulation, and dressing requires extreme care to prevent injury to the caregiver. A range of injuries has been linked with providing care to bariatric patients including strains, sprains and excessive spinal loading. Elevating a limb, which is often necessary, is one of the most dangerous activities. In fact, lifting a limb in excess of 35 lbs. exceeds safe lifting loads for clinicians. Safe reaching is another potential safety hazard for staff.
Ensuring Safety for All: Creating a Bariatrics Safe Patient Handling Program
To keep both patients and providers out of harm's way, facilities should have a bariatrics safe patient handling program. It should include each of these elements:
OPERATIONAL PROCEDURE AND POLICY
Organizations should have a formal procedure and policy that identifies processes for handling bariatric patients' admission and assessments. It should define each clinician's role in maintaining equipment and include statements for respectful care for these patients. Because these patients have unique needs, it's critical to have defined procedures and policies.
PATIENT ASSESSMENT TOOLS
Bariatric patients must be assessed frequently as their abilities can change rapidly. Vital areas to assess include:
Level of assistance needed
Weight-bearing ability
Conditions likely to impact transfer or repositioning
Skin and wound conditions
Spine stability
It is also recommended that a professional with bariatric experience be involved in assessing mobility. A physical therapist that meets these requirements has the skills and tools necessary to evaluate them properly. Facilities should also have tools readily available to assist with patient handling.
COMMUNICATION TOOLS
All information gathered during the assessment should be documented in the patient's records. Mobility is recorded as a baseline at admission and is then used as a reference point during their hospitalization. Communication tools that allow for information to be shared about the patient's needs and abilities are crucial to their care.
PATIENT HANDLING ALGORITHMS AND GUIDELINES
Research, based on analysis of patient handling procedures, has developed patient handling algorithms to identify the safest methods of transfer. These algorithms serve as a tool to problem solve in bariatric care. These algorithms are published by the Veteran's Administration (VA) and address challenges related to body mechanics and patient handling ergonomics. There are seven algorithm guidelines related to transfers, repositioning and transporting.
SPACE AND ENVIRONMENT CONSIDERATIONS
It's no secret that space is hard to find in many facilities. However, with larger patients, larger spaces are required. Facilities should consider a walk-through of a bariatric patient's pathway from admission to the patient room to identify any space concerns. Space is also necessary for the tools or equipment needed to move the patient, as well as ample room for providers to perform their duties to help avoid improper posture.
EQUIPMENT NEEDS
The rise in treatment for bariatric patients has created a need for new equipment to manage these patients. If possible, facilities should always lean toward acquiring mechanized powered devices. This equipment is crucial in delivering care and assisting with mobility and includes items such as bariatric beds with power assist, lift systems (ceiling lifts are ideal), full body slings, extra capacity stretchers, wheelchairs in larger sizes and more.
STAFF TRAINING AND EDUCATION
Keeping staff trained and educated on bariatric patient care and associated risks is critical for a successful bariatric safe patient handling program. Members should be trained on the operational procedures and policies, as well as best practices when handling a bariatric patient. They also must be trained in using specialized bariatric equipment.
EVALUATION
To better understand the effectiveness of an organization's program, evaluation is essential. Some areas that should be measured are patient satisfaction, patient comfort and reports of patient or provider injuries. Gathering data on the program allows for continuous improvement.
BARIATRIC SAFETY EQUIPMENT FROM ALIMED
Facility managers should ensure they're prepared for bariatric patients rather than trying to make accommodations once they arrive at the door. When ordering equipment, consider not only a larger size but weight capacity as well. For more information, read our blog on bariatric equipment or visit https://www.alimed.com/bariatrics/ to view all of our products for your bariatric patients.
REFERENCES:
Latest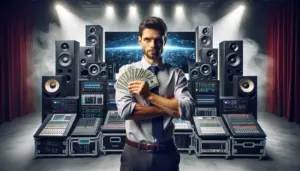 December 8, 2023
Mastering AV sales strategies in a global professional audio-visual (Pro AV) market, poised to reach $79.2 billion by 2028, requires much attention to detail. The surge in demand from corporate, government, and institutional sectors, driven by the need for enhanced productivity and efficient working environments, gives AV sales pros a lot of opportunity. In […]
Read More