Dig Your Heels In: A Working Woman's Series with YiDing Yu
YiDing Yu is the CMO at Olive, a practicing physician, published researcher, and serial entrepreneur. As a female in the healthcare and tech industries, she's excited about the growth of women in healthcare. Yu said she grew up with a ton of interests. She knew she wanted to be a doctor when she was little. But her love of politics and technology helped her combine her hobbies and develop beyond a practicing physician. Yu recalls she was driven by the thought of "how to solve the challenges I saw every day in healthcare" and eventually figured out that the "best way to solve that is working in systems." And that's how she got the tech bug.
According to an article published by the Harvard Business Review, for over 25 years, women have made up at least 40% of U.S. medical students, and in most recent years, more women than men have been enrolled in U.S. medical schools.
Yu lived this statistic, and she understands better than anyone that female enrollment in medical school is not reflective of women in leadership roles. Healthcare IT News found that despite the growth in women's medical students, "only 25-30% percent of healthcare executives – and just 13% of CEOs – are female." Yu has broken through that ceiling and has some empowering advice for how rising physicians can pave their way, and she reflects on what she learned from her development and male mentors.
Yu understands firsthand the struggle that women experience in the medical field. One of the first and most tangible things that she recommends is for aspiring healthcare leaders to protect their time for professional development. Women in medicine tend to put their patients first and professional development second. Yu recalls that her professional development occurred when she challenged herself and participated in special projects from administration to innovation. Once that starts, typically, development projects beget more development projects.
Be assertive and advocate for yourself. Chase that promotion, carve out time for professional development the way men are encouraged to, and source mentors who can strengthen your understanding of business strategy and financials. Always remember, you are the CEO of you. A recent study from Modern Healthcare News reported, "Typically, more men are exposed to finance and operations development than women, leading to lopsided leadership representation."
Yu recalls learning to protect time to develop her leadership skills and forging her path by deviating from the style of male mentors. She says, "Every single role model who was in a position that I thought I might want was a man. Early in my career, I had to think through what is it like for a woman to be in that career? Do I have to act how they act?"
Yu urges women not to conform to the style of their male leaders if it isn't natural for them. She recalls, "I felt like I was trying to dance a jig. Be enthusiastic but not too enthusiastic, assertive but not so assertive that you intimidate people." Of course, professional behavior has to be upheld, but men and women operate differently. Successful leaders look different. They come in all different shapes, dialects, styles, and appearances.
Unfortunately, these trends will only continue until hospitals, corporations, and businesses around healthcare do not make a conscientious effort to drive a shift into more accurate representation.
In 2019 the US Census reported that a range of positions are dominated by women, but even where women outnumber men, like in nursing and speech pathology, they are not represented and excelling in leadership roles.
Of course, it takes time for generations to develop into leadership positions. Practitioners must challenge the status quo of academic structures and corporate structures to shift the fabric of the hierarchy and make it more inclusive.
To embrace diversity, companies have to start measuring it among their employees. Understanding the baseline and sharing it within creates conscious investment and accountability. Yu warns, "Without measurement, it's easy to give yourself a pass." At Olive, Yu has found that publishing that diversity measurement also acts as a gentle nudge for teams across the company.
In conclusion, Yu says it's not just about the supply. It's about how practitioners mentor and make leadership positions more accessible. She urges all professionals to understand that they have agency in this change. It may be as simple as reminding the acquisition team that you want to see more diversity.
For young professionals, know that agency lies in the ability to dedicate time to professional development. That likely means not picking up other physicians' shifts to protect that growth. And finally, don't be afraid to add flare into leadership. Many current leaders may not resemble females, but the female leadership style is bound to be just as successful.
Latest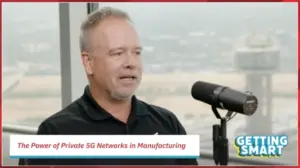 September 25, 2023
The Convergence of 5G and Automation in Manufacturing: A New Industrial Revolution The manufacturing industry stands at an inflection point. Advances in 5G technology and automation are coming together to transform the way products are made, and the role that humans and machines play in this process. Per Treven, Director of Business Development at Ericsson, […]
Read More