How a Healthy Gut Impacts Children's Health
Gut health influences overall wellness. Study after study proves this point, and probiotics are useful in cultivating the healthiest gut. But how does this work for children?
Discussing gut health in children, Digestible brings you a conversation with John Deaton, VP of Science and Technology for Deerland, and Dr. Jernej Dolinsek, part of the Pediatric Gastroenterology and Nutrition Unit for the University Medical Centre Maribor in Slovenia.
Deaton noted that nutritional supplements for children aren't new, as most can think back to those Flintstone vitamins. "There have been hurdles with nutritional supplements for children in creating a delivery form that they'll take routinely, but gummies are reducing these hurdles," he said.
Some might wonder if it's safe for children to take probiotics. However, there have been studies on children. Dr. Dolinsek said, "The gut is the gut. It has to be functional right after birth. Microbiomes have to adapt quickly, and we do know children have some different reactions, as their immune systems are still forming."
Deaton added that children do often have digestion issues, including gluten and dairy sensitivity. "A balanced gut that has more good bacteria can play a role in building a healthier one earlier and bring many benefits," he said.
Dr. Dolinsek mentioned the studies on gut health for children, including those with diseases and health. "The use of probiotic strains can change the gut ecology. That can make a difference, but long-term effects are still unknown. The group of children in the studies will need to be followed to see what happens."
The overwhelming evidence points to probiotics being positive for children.
"Probiotics produce digestive enzymes to improve immunity. They also can help repair and recover tissue damage and help children digest things like dairy better, which they need for growth," Deaton noted.
Follow us on social media for the latest updates in B2B!
Twitter – @MarketScale
Facebook – facebook.com/marketscale
LinkedIn – linkedin.com/company/marketscale
Latest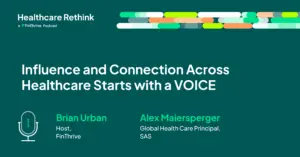 September 29, 2023
In the latest episode of the Healthcare Rethink podcast, presented by FinThrive, host Brian Urban sits down with Alex Maiersperger, the Global Principal Healthcare at SAS. Their conversation charts the role voice plays in influencing and connecting the healthcare industry. Maiersperger, who co-founded the Advancement League, shares his journey from being a healthcare optimist to […]
Read More