Do You Know Where Your Instruments Are? How Surgical Instrument Marking Can Improve Your Perioperative feat. Bill Camargo and Jennifer Bingaman
Ahead of any surgical procedure or operation is the preparation of surgical instruments. In the latest episode of the podcast "ConCensis," host Tyler Kern discussed the ins and outs of how Censis utilizes its software to facilitate the use of surgical instruments throughout the full perioperative loop by putting marks on each individual instrument. He spoke with Bill Camargo, Manager of Marking Services, and Jennifer Bingaman, Director of Business Services, on how Censis gets it right.
According to Camargo, there are three main types of surgical instrument markings commonly used – laser, electrochemical, and mechanical. Laser is the most popular, however, there are instances where one or more may be utilized together. For laser marking a significant amount of space is needed between the lens and instrument of marking, so that's when electrochemical and mechanical marking come into play.
"With some instrument configurations, it's very difficult, if not impossible, to mark it with a laser, that's where electrochemical comes into play," said Camargo. He went on to note that mechanical markings come through with a solution if the former two aren't the best options. The downside to mechanical markings is their lack of permanence.
Marking allows the perioperative to be as smooth and clear as possible. It also makes the job of operating room (OR) staff members much smoother, particularly in critical times. Facilities choose to mark instruments to maintain efficient organization and tracking, according to Bingaman.
"There's usually two main reasons why people choose to mark instruments, the biggest being that when you're assembling a tray in sterile processing and you're able to scan each instrument to that set, it helps ensure that you have a complete set to the OR, so that OR staff aren't spending their time looking for missing instruments," said Bingaman.
Surgical instrument marking also makes identifying and pinpointing the source of any issue that might arise during a procedure. While each surgical instrument tray is unique, when surgical instruments have markings, it clarifies a particular instrument giving you a deeper level of tracking information.
"If God forbid there's an infection control issue, then if you have instruments marked and you're scanning at instrument level, then you know exactly what instruments were used on that patient, rather than just knowing this tray was used on this patient. You actually get down to the instrument level," said Bingaman.
Censis's CensiTrac software adds another element that improves surgical instrument marking and tracking. Bingaman compared the tracking method to manufacturing barcodes. Similar to how barcodes identify what products were just scanned in a grocery store for example, entering surgical instrument data into the CensiTrac system will help it know what instrument is being used.
Interested in learning more about Censis Technologies' surgical asset management platform? Visit Censis.com.
Latest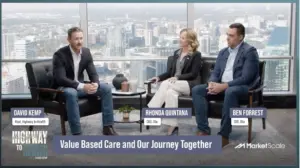 December 7, 2023
As of recent times, the healthcare industry has been progressively shifting towards value-based care, a model that emphasizes patient outcomes over the quantity of services delivered. This transition represents a significant shift that promises to enhance patient experiences and outcomes while controlling healthcare costs. With a growing emphasis on this approach, especially over the […]
Read More