HBMA Put Community First During the Pandemic. Here's How It Paid Off.
Tradeshows are back, baby! Though some are getting cancelled, others persist; here in Dallas, HBMA's 2021 Healthcare Revenue Cycle Conference brought industry leaders back together to knock heads on healthcare's major transformations over the last year, and how everything from telemedicine, to alternative insurance plans, to demand for traveling nurses is intersecting with healthcare's flow of dollars.
MarketScale's healthcare industry lead, David Kemp, hit the show floor to learn more about what's keeping this side of the healthcare industry strong and innovative. First, we spoke with a trio of thought leaders: Kurt Gallagher, Executive Director of HBMA; Andrew Norrie, Director of Sales for Pettigrew Medical, and Emily M. Osetek, COO of Pettigrew Medical and President of HBMA, to talk "community" in the healthcare business sector, and how HBMA's strategies to maintaining communications with industry leaders have paid off.
We also got to hear from Eric Christensen; Owner/Co-Founder of HCP (Healthcare Compliance Pros), on their partnership with the HBMA. Since 2017, Eric and the HCP team have worked with HBMA to build an accreditation program to validate the RCM sector within healthcare business management, developing tools for standardized, to create accountability and self-accountability. Here's why this partnership has been proving useful for professionals in the industry, especially since the global pandemic.
Latest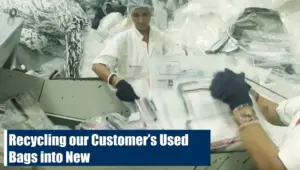 December 6, 2023
This video focuses on EcoLOK4, a groundbreaking product by CONTROLTEK that exemplifies innovation in sustainability. It highlights the process of transforming landfill waste into new deposit bags, with 90% of each bag's material being repurposed trash. This initiative not only reduces waste but also closes the sustainability loop, demonstrating CONTROLTEK's commitment to environmentally friendly […]
Read More