Insurance Providers are Increasingly Partnering with Other Organizations to Improve Public Access to Mental Health Care
Insurance providers are increasingly partnering with other organizations to improve public access to mental health care. Melanie Musson, a health insurance expert with InsuranceProviders.com, reminds providers, "Partnerships share costs and multiply benefits."
Mental health has become an increasingly central part of health insurance discussions. AHIP recently compiled and released a list of efforts health insurance providers have implemented to make mental health care accessible for policyholders.
Increased Demand for Mental Health Care
Since COVID-19, the demand for mental health care has skyrocketed. According to AHIP's report, Health Insurance Providers Actions Concerning Mental Health, many insurance providers are seeking to erase the stigma associated with mental health care and help the public overcome challenges to access mental health.
Some people don't know if health insurance will pay for mental health. These initiatives seek to address that question and improve access.
Joint Initiatives to Improve Mental Health Access
Some examples of insurers taking steps toward improving the process of receiving mental health care include the following:
The Confess Project of America (TCPA) and AmeriaHealth Caritas Georgia started a joint initiative to educate barbers in rural regions so they can spread the word about the benefits and accessibility of mental health care to clients.

Communities In Schools of Appalachian Highlands (CIS-AH) and Anthem Blue Cross and Blue Shield Foundation partnered to target at-risk students in schools throughout southwest Virginia.

Avera Health Plans opened a new wing in their Helmsley Behavioral Health Hospital to treat more inpatients and offer emergency mental health care.

Blue Cross Blue Shield of North Carolina has several partners working with them to improve the foster care system and the availability of mental health care to all involved. 
A major takeaway that insurance providers should obtain from these and other examples is that treatment for mental health care doesn't have to be the sole responsibility of the insurer. Partnerships will help the insurance provider as much as they will help policyholders.
Insurance Provider Response to Partnership Examples
Insurers should seek partnerships to improve mental health care access. Not only do partnerships share the costs, but they also multiply the effect. 
Home insurers partner with home security companies to help homeowners save money and prevent claims, resulting in fewer home insurance claims payouts for providers.
Health insurance companies can follow a similar model by partnering with groups that focus on improving mental health care.
Melanie's Thoughts:
"Mental health has become an increasingly important issue to insurance companies because policyholders are dealing with a mental health crisis in greater numbers than before COVID-19. Since COVID-19, there has just been a huge increase in the number of people that need mental health care. And so, one thing that insurance companies have been doing is partnering with other groups to make mental health care more accessible to help remove the stigma associated with it and to make it more affordable to people. So, some examples of this is the Confess Project of America and AmeriHealth. Caritas Georgia participated in a joint effort to educate barbers who can take what they've learned to their customers in rural communities and spread the word about mental health care and kind of share with people that it's okay to get the help you need.
There's nothing wrong with that. There's nothing embarrassing about getting help for mental health issues. And the communities and schools of Appalachian Highlands and Anthem Blue Cross and Blue Shield Foundation partnered to address the needs, the mental health needs, of high-risk students throughout Southwest Virginia. Anthem Blue Cross and Blue Shield of New Hampshire has joined with Aspire365, and they are providing in home mental health care to anyone twelve and up.
That's who they are focusing on: anyone twelve and up. And so, then it just removes that barrier of having to go out and make it to appointments. Instead, it's an in-home based care. So, what can insurance providers take from this? Well, improving access to mental health care doesn't have to be something they do alone.
Partnering with these other groups will help spread awareness and it will also split costs. And so, insurance companies, you're always looking at risk reward and how you can earn enough in premiums to pay in claims. Well, here's a way to increase the service that you provide without assuming all the costs involved.
So, this partnership idea is something that every insurance provider should consider because it leads to better patient outcomes, better customer satisfaction, and it doesn't all fall on the insurer to provide those services. So, insurance companies take note, read up on these options, and think of ways they can implement partnerships in their way of addressing mental health."
Latest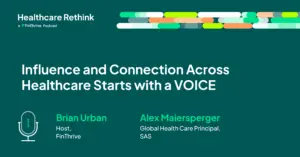 September 29, 2023
In the latest episode of the Healthcare Rethink podcast, presented by FinThrive, host Brian Urban sits down with Alex Maiersperger, the Global Principal Healthcare at SAS. Their conversation charts the role voice plays in influencing and connecting the healthcare industry. Maiersperger, who co-founded the Advancement League, shares his journey from being a healthcare optimist to […]
Read More