HealthChampion Names New President
Key Points:
HealthChampion names Sid Bala as the new president.
Bala brings 30 years of experience in leadership and healthcare.
He also joined the board of HealthChampion in 2020.
Commentary:
HealthChampion, a digital analytics company with a consumer-driven platform and mobile app, has announced a new president. Sid Bala will be taking over as president, and this transition comes internally, as Bala has served as a board member since June of 2020. On top of that experience already within the company, Bala has over 30 years of experience working with various companies and nearly three decades of experience as CEO of his own company, Alligatortek. Just off that, the resume speaks for itself, but we wanted to ask Bala how this experience will help him with this position.
Abridged Thoughts:
At HealthChampion, we enable consumers to achieve better health outcomes. I'm excited by this new role as president because it enables me to bring together my unique skills, coupled with decades of experience. For the last 30 years, I worked with scaling entrepreneurial companies and inside healthcare organizations. Today, we have a robust product that continues to get better each and every day. Over the last two years, we've seen over 100,000 downloads, and we have tens of thousands of monthly active users. Leveraging my experience, I'm coaching our leadership team to the next level. In concert with our CEO and Board of Directors, we drive the highest level of execution against our corporate KPIs. 
More Stories Like This:
Transforming How Lower-Middle Market Healthcare Firms are Represented
Latest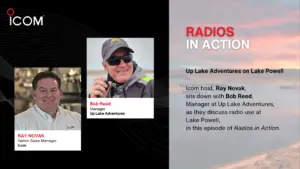 November 29, 2023
Delving into the serene beauty of Lake Powell, the Icom Podcast "Radios in Action" pairs the thrill of personal watercraft adventures with the crucial use of marine radios. Host Ray Novak and Bob Reed, the Manager of Up Lake Adventures, discuss the enthralling experiences offered by Up Lake Adventures in Utah's majestic landscapes. In […]
Read More