Here's How It's Still Possible to Afford Skyrocketing Healthcare Costs in the U.S.
It's impossible to ignore the massive increases in heathcare costs in the United States. In an era where the average healthcare cost for a family of four has skyrocketed to a staggering $31,000 per year, it's no wonder that discussions around healthcare affordability are becoming increasingly critical. With healthcare inflation now surpassing 5%, it's evident that many are struggling to access the medical support they need, leading to urgent debates on system reform and personal responsibility. The question remains: how can we navigate this challenging environment and ensure better health outcomes for all?
In the latest episode of the podcast series Highway to Health by MarketScale, host David Kemp delves into the escalating issue of healthcare costs. Kemp unpacks the problem, contemplates potential solutions, and emphasizes the need for proactive individual health management.
The episode focuses on:
The alarming rise in average healthcare costs and its impact on average American families.
The necessary steps needed from all stakeholders including, payers, healthcare providers, and legislators to address these issues.
The role of personal responsibility in maintaining one's health, including developing healthy habits, eating right, and paying attention to one's body.
David Kemp is the Healthcare Lead atMarketScale's healthcare department. Kemp's work is marked by his dedication to improving access, experience, and outcomes for patients.
Latest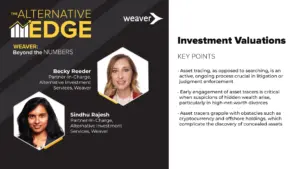 December 4, 2023
In this episode of The Alternative Edge, a Weaver: Beyond the Numbers Podcast, host Becky Reeder, an audit partner and co-leader of the alternative investments practice at Weaver, engages with Sindhu Rajesh, an Alternative Investment Services Partner with Weaver. They unpack the complexities of venture fund valuations, offering critical insights into industry dynamics and best […]
Read More