How Future Remote Medicine Solutions Will Contain Diseases
The challenges healthcare executives and administrators face are constantly changing. Host Kevin Stevenson talks with the heroes behind the heroes that are enabling hospitals, urgent care centers and telemedicine operators to spend their time tending to patients, while they handle the logistics.
Almost everyone is familiar with a stethoscope, and it's the most common medical device in the world. But many haven't heard of its digital version. Exploring innovation in healthcare is a pillar of I Don't Care. Host Kevin Stevenson welcomed Clive Smith, founder and CEO of Thinklabs to talk about his company's digital stethoscope.
Smith has an electrical engineering background and was researching medical devices. He learned the stethoscope still worked and sounded the way it did when invented in 1816. He spent years researching how to digitize the instrument and bring exceptional sound quality. The first product hit the market in the early 2000s and would find its place in the world of infectious disease outbreaks.
"We worked with units treating Ebola patients in 2014, allowing them to listen to patients while staying protected in their PPE," Smith said.
So how exactly does the digital stethoscope work? Smith explained, "It's a round puck that sits on the patient's twist and can be connected to any type of headphone."
The "puck" is small, fitting in a hand, but powerful. It would become a highly sought-after medical device during COVID-19, with new challenges. "There were new situations with COVID-19. There was drive-thru testing and a shortage of PPE. We were solving problems in real-time," Smith said.
The company also learned through a study that the device could be bagged and not dilute the sound. "It can be bagged in many layers without diminishing the sound, so healthcare workers can use pass it around, removing bags to keep it clean."
Smith noted they are continuing to improve their main product but could innovate on other devices in the future. He also shared his perspective on the future of digital health. "Telemedicine is here to stay, and remote monitoring will evolve to support this. COVID-19 was an accelerant to things already there, but now we see widespread adoption."
Latest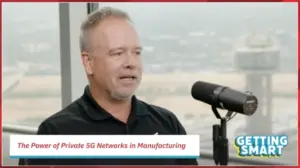 September 25, 2023
The Convergence of 5G and Automation in Manufacturing: A New Industrial Revolution The manufacturing industry stands at an inflection point. Advances in 5G technology and automation are coming together to transform the way products are made, and the role that humans and machines play in this process. Per Treven, Director of Business Development at Ericsson, […]
Read More