How Health Agencies Can Enhance Remote Care Communication
This week on I Don't Care, host Kevin Stevenson sat down with Rajesh Midha, Chief Strategy & Operating Officer of Bottle Rocket, to discuss how the company has personalized digital care through smart navigation that removes the pain points patients experience.
Midha detailed how the company started in 2008 on the day after Steve Jobs announced the Apple app store. Since then, Bottle Rocket has worked with leading healthcare providers to improve their patient journey, efforts that culminated with the creation of the highest-paid patient app in the country with a 4.8 rating in the app store.
When Midha thinks of the patient journey, the most important step is awareness. How does a patient find out about your health organizations? Once the awareness occurs, how do you convert them to a patient? Once they are a patient, how do you keep them retained and engaged while having the best experience possible?
When current patients are using a healthcare platform, they are most likely needing access to the following. These present the biggest pain points when dealing with the "digital front door":
Clear billing
Easy payment
Reminder notifications
Ability to connect to a doctor without picking up the phone
With so much change occurring, it can be hard to continuously innovate, so Midha reminded us that the healthcare and technology industries need to look at what other industries are doing for inspiration. But healthcare professionals are the only ones that can solve some of these challenges, because other industries "don't always have the deep empathy for the reality that healthcare is really hard and you are dealing with patient lives.
"There has never been a more exciting time to be in healthcare."

Latest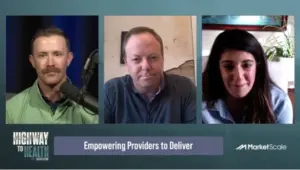 December 6, 2023
The healthcare industry is undergoing a significant transformation, driven by the need to improve patient experiences, access, and outcomes. Amidst this shift, contract lifecycle management (CLM) is emerging as a critical tool for healthcare providers. With the increasing pressure on cost management and compliance, healthcare organizations are seeking solutions that streamline operations and enhance […]
Read More