How to Offer Effective Probiotic Industry Education
Industries that involve scientific topics have barriers associated with relevant information – in both accessing it and understanding it. These challenges to education, however, can be overcome with the right path. That's true for the probiotic industry, as healthcare and food and beverage professionals try to make the right decisions based on accurate data.
Discussing the probiotic industry educational environment, Digestible host Daniel Litwin spoke with an expert in the field, Steve Williams, Director of Innovation and Education at Deerland. He has a long tenure in the bio-education space, spent years in R&D, and now leads education efforts for the company.
"Education has always been a challenge in probiotics, although those have shifted and changed. Two decades ago, education was basic and about awareness. Now, it's a much more crowded space, which has different challenges," Williams said.
Tangential industries that need scientific information on probiotics and enzymes face three core obstacles, according to Williams. "First, it's finding relevant information that isn't marketing hype. Second, if you find these good sources, they aren't always accessible to the public or free. Third, if you access the research, you then have to interpret it."
These hurdles aren't small. The probiotic field has lots of marketing-geared content, so it makes it harder to distinguish. The actual scientific information is rarely written in layman's terms, which means it's hard to consume for those outside that world.
"The probiotic industry can solve these challenges. Greater access and prioritizing education are the key," Williams noted.
Follow us on social media for the latest updates in B2B!
Twitter – @MarketScale
Facebook – facebook.com/marketscale
LinkedIn – linkedin.com/company/marketscale
Latest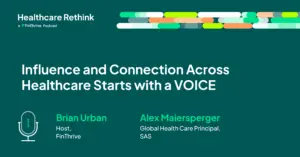 September 29, 2023
In the latest episode of the Healthcare Rethink podcast, presented by FinThrive, host Brian Urban sits down with Alex Maiersperger, the Global Principal Healthcare at SAS. Their conversation charts the role voice plays in influencing and connecting the healthcare industry. Maiersperger, who co-founded the Advancement League, shares his journey from being a healthcare optimist to […]
Read More