Improved Labor and Delivery Innovations Provide Better Outcomes for Mothers and Babies
Staffing shortages in healthcare is a major corner, one department particularly affected is baby labor and delivery, where new parents rely on optimal care. While the birthing process is a natural occurrence, in today's healthcare world, providing the best medical advancement possible in these situations is the goal, and technology can help physicians get there.
Intel's Chief Healthcare IoT Solution Architect, Karen Perry, joins her identical twin sister Kelli Parker, a nurse practitioner, to discuss these issues with host of Health and Life Sciences at the Edge, Michelle Dawn Mooney.
Intel and its partners created solutions to observe the patient remotely through two-way video and audio cameras. This approach allows a nurse to triage a situation even if they cannot be where the patient is when a problem occurs.
With trying to ensure the first few moments and days of a new child's life goes as smoothly as possible, there are clearly many reasons and needs for advanced monitoring during the labor process of birthing. Some, Parker says, are for medical concerns for the patient and baby, but others focus on how the mother chooses to bare that child. No matter the method —natural versus cesarean and with or without an epidural — the better the monitoring system, the better the outcome.
Another exciting advancement in labor and delivery practices is the introduction of AI to alert a medical professional if an issue arises. "We're working on algorithms to detect the patient's motion," Perry adds. "Also, to know what's a normal motion or an abnormal motion."
To make these technology advancements possible, Intel works with clinicians to determine their needs and where technology can play a role that makes sense in the overall healthcare workflow.
This technology works in two ways:
Monitoring patients "behind the scenes" for when things are going right, giving physicians and family peace of mind, and
Alerting clinicians when there is a concern and immediate action is needed.
In the case of mothers and babies during labor, delivery, and recovery, a seamless workflow is essential.
Learn more about Intel's solutions by connecting with Karen Perry and Kelli Parker on LinkedIn or visit:
Smart Hospital Business Brief.
Intel Internet of Things Group
Subscribe to this channel on Apple Podcasts, Spotify, and Google Podcasts to hear more from the Intel Internet of Things Group.
Latest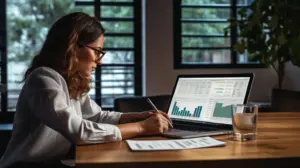 October 4, 2023
The intersection between security and financial acumen often gets overshadowed in a constantly changing economic landscape. While security is essential for safeguarding assets and ensuring continuity, its perceived monetary value is mired in misconceptions affecting company profitability. For many, security is viewed primarily as an expense rather than a potential cost-saver. However, understanding […]
Read More