Improving Education for Medical Professionals Through Remote Learning
I Don't Care host, Kevin Stevenson, was joined by Mary Ellen Beliveau, CEO of Knowledge to Practice (K2P) for an in-depth discussion on education in the healthcare space.
Stevenson began by asking about the educational needs of medical professionals and the effectiveness of traditional methods.
"Part of their hippocratic oath is to sign on to being lifelong learners," said Beliveau.  Continuing education for those in the healthcare industry is much more important than simply meeting the requirements to maintain licenses and credentials.
To keep up with medical advancements, drug treatment options, healthcare studies, and other pertinent information necessary to deliver optimal patient care, healthcare professionals need an effective way to receive, learn, and maintain that knowledge.
"Creating intrinsic desires is critical to driving engagement," said Beliveau.
K2P utilizes numerous tools such as assessments and applied learning to improve engagement and deliver valuable education.  Traditional educational methods rely on a 'one size fits all' approach to delivering information.
The COVID-19 pandemic has shut down the majority of in-personal learning opportunities.  The global health emergency has highlighted the necessity for online or remote educational programs.  Furthermore, with the constant information stream about the virus itself, being able to effectively relay this information is valuable for the treatment and prevention of the entire global population.

Latest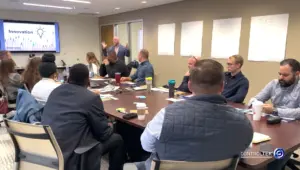 December 4, 2023
The video captures highlights from the CONTROLTEK Design Thinking Workshop specifically tailored for Burlington Stores. It shows interactive sessions, engaging group activities, and innovative brainstorming, emphasizing CONTROLTEK's commitment to developing customized retail solutions in collaboration with the Burlington Stores team.
Read More