July Job Report Reveals Records and Reservation
U.S. labor force participation reached a record high in the month of July. Unemployment remained at 3.7% according to the latest jobs report from Bureau of Labor Statistics, released Friday, Aug. 2. Wages also increased 3.2% overall, an increase from June.
Approximately 164,000 Non-farm payroll additions were made in July, while private-sector payrolls modestly under-preformed Dow Jones and Moody's expectations, at 148,000 for the month.
The strong job numbers are, however, a departure from consistent payroll increases of 200,000-plus the country experienced in 2018 and the first quarter of 2019. So far this year, average monthly job additions stand at 165,000, according to the Wall Street Journal. Analysts continue to point towards a trend stagnation in job growth for the remainder of the fiscal year.
Looking Ahead by Looking Back
Professional and technical services added 30,800 jobs and the health care sector added 30,400 accounting for two of the biggest payroll growths in July. Financial activities payrolls rose by 18,000 while the mining industry reported a loss of 5,000 jobs.
Today's jobs report also significantly revised earlier numbers from what was supposedly a strong month of growth in June. The June payroll gain of 224,000 was reduced to 193,000. May's sluggish job numbers have also been reduced from the reported 72,000 jobs down to 62,000.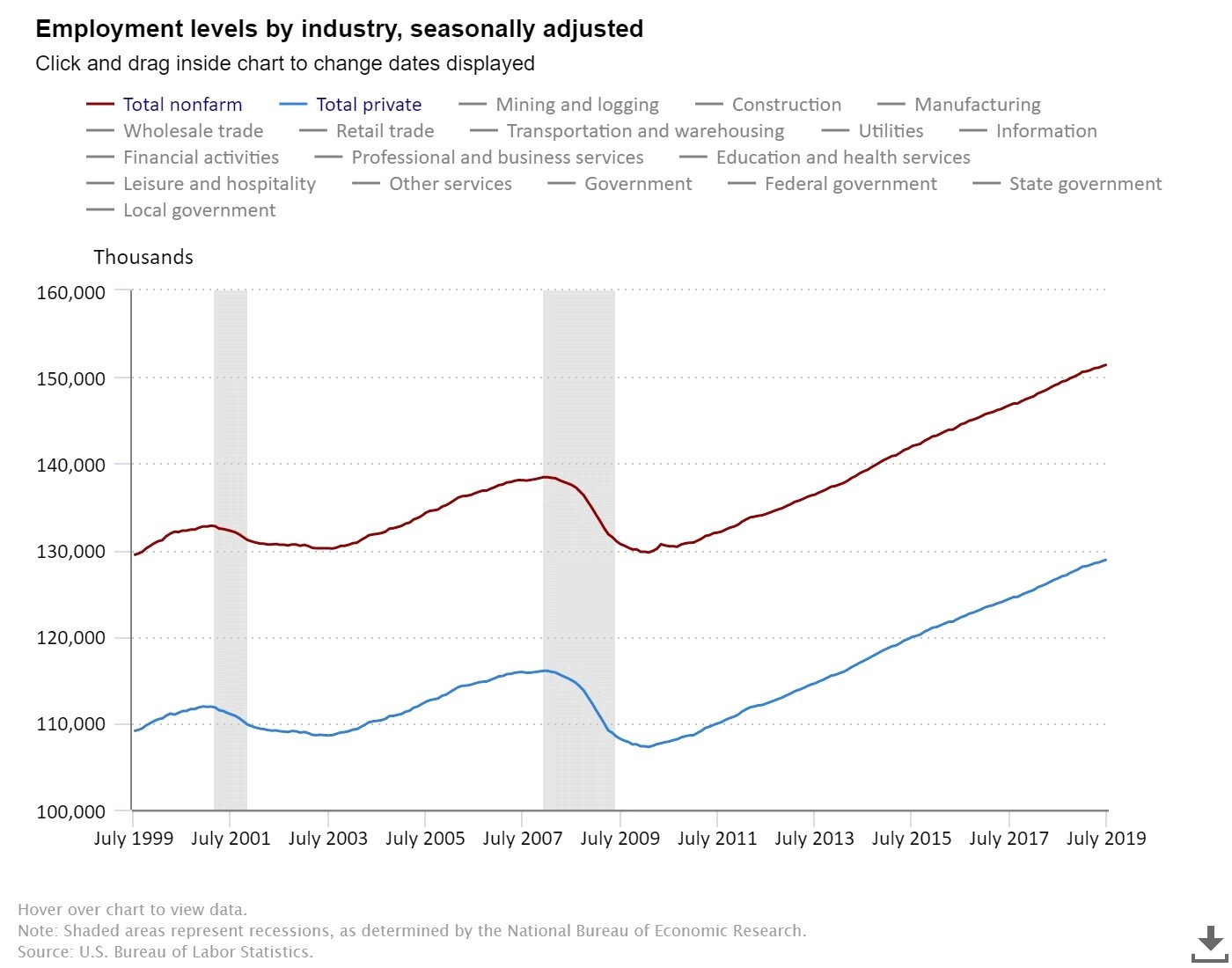 Photo courtesy of the United States Bureau of Labor Statistics.
The record increase in workforce participation comes amid news that retailers like Lowe's, which just announced thousands of layoffs at its stores, are continuing to close and reduce costs. This year alone, more than 7,000 store closures have been announced by US retailers–a staggering number that some analysts predict could reach up to 12,000 by the end of the year.
Who's Winning, Who's Losing?
Small businesses, specifically those with less than 20 employees, reported negative payroll numbers for the third consecutive month. They continue to struggle with labor shortages and competition from online retailers that are contributing to this decline.
Manufacturing employment had another month of modest job growth, with the country adding 16,000 new jobs. The American manufacturing industry has seen one of the most difficult periods for job growth over the past two quarters. This report comes in the midst of ongoing trade disputes and softening of the global market. US manufacturing work hours hit its lowest mark since 2011.
In the wake of a new round of tariffs on China, set to go in effect September 1st, the trade deficit between the two countries decreased 0.3% to 55.2 billion. Markets will be vigilant of the impact this new round of tariffs will have on American consumers along with worries of a global economic slowdown as the Federal Reserve voted Wednesday to cut their interest rate a quarter of a percent.
For the latest news, head to our industries pages! You can also follow us on Twitter @MarketScale for up-to-the-minute updates! Join the conversation in on Market Leaders LinkedIn Groups!
Latest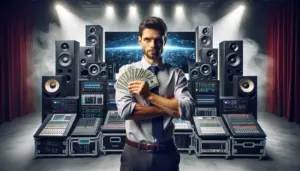 December 8, 2023
Mastering AV sales strategies in a global professional audio-visual (Pro AV) market, poised to reach $79.2 billion by 2028, requires much attention to detail. The surge in demand from corporate, government, and institutional sectors, driven by the need for enhanced productivity and efficient working environments, gives AV sales pros a lot of opportunity. In […]
Read More