Oncology Professionals Lean on Collaboration and the Enhancing Oncology Model to Solve Cancer Care Challenges
Cancer centers have faced significant challenges during the pandemic, including space constraints, suboptimal nurse assignment methodologies, and the fact that nearly half of infusion centers are tracking their operational performance manually. In response, the Centers for Medicare & Medicaid Services launched a voluntary initiative called Enhancing Oncology Model, aiming to transform cancer care and reduce costs. 
The program aligns with President Biden's Cancer Moonshot pillars and focuses on patient-centered services and addressing inequities. Clinical strategist Reesa J. Sherin from Carevive, who recently visited the ACCC Business Summit focused on addressing cancer center challenges, shares insights on how cancer centers are working together to address nursing shortages, staff burnout, and meet the requirements of the Enhancing Oncology Model.
Reesa's Thoughts
"The Association of Community Cancer Centers came together to discuss business technology and policy as the theme for this year's meeting. We found that cancer centers are coming together to find new, innovative ways to help with the current issues at hand. A lot of them being nursing shortages as well as staff burnout. Also, at this top of mind is the new CMS model, the Enhancing Oncology Model. We're finding that cancer centers are coming together to try to find innovative solutions to support them in fulfilling these requirements. They understand that the value is there, but they're really not sure how to go about the implementation.
That's where Carevive comes in. We're helping to ensure that we can implement these new aspects of the Enhancing Oncology model, specifically around ePROs and health-related social needs, and creating that health-related social plan. We also were at the Community Oncology Alliance conference. There, we found there's a lot of collaboration between community clinicians around how do they compete in a world where hospital systems are taking over the community. There are many ways that cancer centers in the community setting can find innovative ways to meet their patients where they are. That includes being a part of such a value-based program as  the Enhancing Oncology Model. This model ensures that patients are receiving high-quality care, ensuring that patients are having access to care and having their barriers to care removed.
By participating in these two meetings, the ACCC Business Summit, as well as the Community Oncology Alliance, we found synergies between Carevive and the teams that are having needs out there. We really look forward to continuing these conversations and supporting as the Enhancing Oncology model goes forward."
Article Written by Azam Saghir.
Latest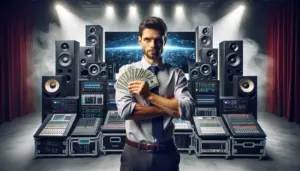 December 8, 2023
Mastering AV sales strategies in a global professional audio-visual (Pro AV) market, poised to reach $79.2 billion by 2028, requires much attention to detail. The surge in demand from corporate, government, and institutional sectors, driven by the need for enhanced productivity and efficient working environments, gives AV sales pros a lot of opportunity. In […]
Read More