Part Two: Navigating Change As A Leader In Today's World: ConCensis
As leaders, it's always important to listen to your employees. But, now might be the most crucial time to listen and understand the needs of employees who are going through tumultuous times. Empathy and appreciation are vital tools as leaders look to navigate the pandemic.
On the second part of this ConCensis podcast episode, Host Daniel Litwin talked with Derek Murray, Senior Client Portfolio Manager at Censis Technologies. They dug into company leadership and how well it responded during the pandemic, lessons to take away, and how leaders can prepare for disruption and rapid change in the future.
Censis Technologies morphed into a virtual company in order to adjust to this new work life. Since workers no longer get camaraderie over the water cooler or in the break room, it's essential to make sure employees stay connected with each other and their managers.
"I make sure every morning I send out a message saying 'Hey, Good morning happy Tuesday,'" Murray said, "and then just kind of going over things of what they day looks like and then reminding them often 'I really appreciate everything they're doing.'"
These are just some things that leaders can do since we're not in person, according to Murray. It's important as leaders to make sure those in their charge know they're valued. It's also not just about daily work but also what an employee is doing well.
"I think we as leaders always get in the mode of trying to fix things, but we need to celebrate awesome things people are doing," Murray said.
Interested in learning more about Censis Technologies' surgical asset management platform? Visit Censis.com.
Latest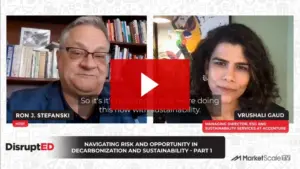 September 26, 2023
The global conversation has shifted dramatically towards decarbonization and sustainability in recent years. With the world experiencing unprecedented levels of disruption, from 5G technology to the challenges of a pandemic, the urgency to address climate change and its implications has never been more palpable. Although most business leaders see the vision of Sustainable Development […]
Read More