Practicing Proper Sanitization and Disinfection of Medical Equipment
On this episode of Champions of Care, a Champion Chair podcast, host Daniel Litwin and Champion Manufacturing Product Support Manager Melissa Hirth sat down for a discussion on the importance of proper sanitization and disinfection of medical equipment in the wake of the spread of COVID-19.
These practices extend to chairs and medical recliners like the ones Champion provides, and keeping up with best practices to ensure they're cleaned thoroughly and regularly can aid the world's front-line response to the pandemic.
It's also critical, Hirth said, to choose equipment designed with infection prevention in mind.
"Nurses and doctors are not used to this level of disinfection on products that really should be thrown away after each use," she said. "Because COVID-19 is such a rapidly evolving situation with constant development of new or even conflicting information – I can tell you that a lot of the studies confirm that the detection of the virus on surfaces (lasts) for hours or sometimes even days, depending on the surface.
"So proper disinfection and choosing medical equipment that has those infection-prevention measures is more important than ever."
Also important, Hirth said, is the difference between cleaning and disinfecting, as both are critically important. Hirth labeled cleaning as "the actual removal of dirt and grime from a surface," adding that it helps remove allergens, microorganisms, and more. Though it helps remove germs, it doesn't actually kill them.
Disinfection, then, refers to "killing a high percentage of germs on a surface, which renders them incapable of reproducing." Sanitization simply lowers the number of germs on a surface, and sterilization is the most extreme form of removal, removing essentially all types of life on a surface.
Cleaning should happen before disinfection, Hirth said, to remove barriers in front of a disinfectant's ability to get to the germs it's targeting.
Champion also engineers its chairs for aiding in infection control, listening to clients to develop strategies that help them more efficiently and thoroughly clean their products.
To that end, Champion chairs feature:
Swing-Away Arms
Quick-Release Seat (Removable with No Tools)
Access to Every Surface of the Chair
Replacement Covers
Gasketed Heat and Massage Components
For the latest news, videos, and podcasts in the Healthcare Industry, be sure to subscribe to our industry publication.
Follow us on social media for the latest updates in B2B!
Twitter – @MarketScale
Facebook – facebook.com/marketscale
LinkedIn – linkedin.com/company/marketscale
Latest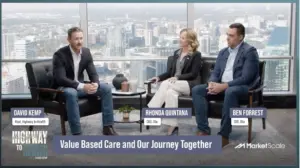 December 7, 2023
As of recent times, the healthcare industry has been progressively shifting towards value-based care, a model that emphasizes patient outcomes over the quantity of services delivered. This transition represents a significant shift that promises to enhance patient experiences and outcomes while controlling healthcare costs. With a growing emphasis on this approach, especially over the […]
Read More