Surfacide experiences 500% Increase in Demand of Their Coronavirus Killing UV Robots
(Waukesha, WI)—January 5, 2021 – Surfacide®, the leader in hospital-grade, triple-emitter UV-C robot technology, is excited to announce they've moved to a larger facility in Waukesha, WI to accommodate rapid business growth at more than 500% in the past year. As we move into our new normal, germ-fighting, COVID-19 killing "robots" is being deployed everywhere from hospitals, nursing homes, restaurants, hotels, gyms to commercial office spaces, tourist attractions, and professional sports stadiums. Surfacide has been a trusted leader in UV decontamination for over ten years due to its world's only patented Helios® Triple-Emitter System of three virus-zapping robots.
Surfacide is actively being used throughout the world in over 500 leading healthcare facilities, children's hospitals, nursing homes, correctional facilities, dental offices, hotels, restaurants, commercial businesses and more around the world. Such facilities include the Seattle Space Needle, Beachbody Studios, Children's Hospital of Los Angeles and locally at Children's Hospital of Wisconsin, Froedtert Medical College—Milwaukee and Aspirus Wausau Hospital. The company's UV-C technology is scientifically validated to inactivate coronavirus–the family of virus that make up SARS-CoV-2 and COVID-19.
Surfacide's new location is at N918 Northmound Dr., STE. 300 Waukesha, WI 53186 and the company's   new facility is more than 75,000 sq-ft, three times the size of their previous location. The company was started in a one-room office in 2010 and has experienced incredible and consistent growth every year since its inception. The expansive new building space will offer much needed space for Surfacide's expanding team and to meet the huge increase in demand for their UV system since the pandemic hit. The facility will continue to house the company's manufacturing and distribution arm, as well as a global training center, a state-of-the-art UV robot simulation room, conference rooms and offices.
Gunner Lyslo, Founder & CEO of Surfacide shares his excitement for the new space: "During the pandemic, we are fortunate to have grown our team and provide a proven UV-C technology that has tremendously impacted healthcare facilities, nursing homes, dental offices, and more in fighting the COVID-19 virus," says Lyslo. "This year the importance of infection prevention has been paramount, and we expect to see that course continue in years to come. For as long as our communities need safety and protection, Surfacide will continue to evolve and be there to assist those who need it most."
 About Surfacide
 Surfacide LLC and Surfacide Manufacturing Inc. are located in Waukesha, WI and produce multiple emitter UV-C systems. Surfacide is the only patented triple emitter UV-C system, providing the most efficient and flexible solution in the fight against viruses and bacteria that cause hospital-acquired infections. Hundreds of hospitals worldwide are using Surfacide technology to provide an extra layer of protection for patients and healthcare workers. Surfacide's evidence-based UV-C solution reaches more surfaces, reduces shadowed areas, and requires less labor for a quicker turnaround time and better efficacy. Learn more about Surfacide by visiting https://surfacide.com or calling (844)-390-3538.
Latest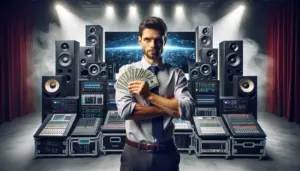 December 8, 2023
Mastering AV sales strategies in a global professional audio-visual (Pro AV) market, poised to reach $79.2 billion by 2028, requires much attention to detail. The surge in demand from corporate, government, and institutional sectors, driven by the need for enhanced productivity and efficient working environments, gives AV sales pros a lot of opportunity. In […]
Read More