Implementation Strategy: What Does a Successful Surgical Instrument Management System Implementation Look Like?
Technology plays a central role in every aspect of medical advancement — even in the surgical asset management field.
On an episode of ConCensis host, Tyler Kern was joined by Theresa Cole, a Sterile Processing Manager at Northern Nevada Sierra Hospital, and Jason Blake, a project manager with Censis Technologies – the company behind CensiTrac, a system being used to manage all things surgical instrument management.
When health centers and facilities look to adopt a new system, there are several key things that they look for. But for Cole, her main goal was to work with a software that facilitated patient tracking and was easy to use.
"The most important thing is being able to track to the patients … kind of a thorough implementation to be able to track through the process. We've used CensiTrac in the past so as a system I was familiar with, I was very comfortable and confident using it at this facility," said Cole.
The CensiTrac system was the most significant factor for Cole's interest in her management job. The Censis software was going to be used at Northern Nevada Sierra, which piqued Cole's interest. "CensiTrac was in place … because there's very extensive modules to be able to track paperless, track to the patient, track the instrumentation … it was a very comprehensive system so that was a selling feature for sure," stated Cole.
Having a support team in the surgical asset management field is also important. The Censis implementation team assists hospital staff on how to use the system, ensuring proper and safe security measures, and getting people all on the same page for a smooth process.
Early preparation stands to be the main factor in effectively implementing sterile processing and what has to be prioritized.
"The main thing is their data – what is their information going to look like," said Blake.
For sterile processing, these things include items like count sheets and instrumentation. Blake stated, "that is core training for a tracking system to ensure that you have the right data in place. All their trays, the tray names — anything that has to do with that first is a really big thing."
He added that coordinating with information technology personnel and understanding the hardware should be emphasized in surgical asset management because oftentimes, switching from one system to another or implementing into a totally new system might come with trial and error since every facility has its own needs.
Interested in learning more about Censis Technologies' surgical asset management platform? Visit Censis.com.
To access additional podcasts, visit the ConCensis Podcast Show featured on MarketScale.
Latest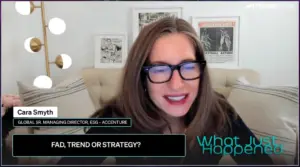 November 30, 2023
The world is in an era where sustainability and responsible retail business practices are increasingly crucial. For the latest episode of "What Just Happened," host Christine Russo further explored the hows and whys of this pressing issue by interviewing Cara Smyth, Global Senior Managing Director for ESG and Responsible Retail at Accenture, and Chair […]
Read More