The European Union Has Announced the Finalized EU GMP Annex 1
The European Union has announced the finalized EU GMP Annex 1 for manufacturing sterile medicinal products. It is creating some reservations for manufacturers who are not certain how these changes may impact their total manufacturing operation and output. In particular, as the August 2023 deadline approaches manufacturers will need to take time to unpack the changes and understand how they will impact their standard operating procedures.
Jennifer Parker, Director of Marketing at Benchmark Products, is advising manufacturers not to wait to consider these new policies. She anticipates the evaluation of SOPs against the guidelines in Annex 1 will require manufacturers to revise and overhaul processes, as well as implement entirely new processes.
Jennifer's Thoughts:
Although drafts of the new Annex 1 regulations that govern the manufacturers of sterile medicinal products have been circulating for some years now, it still presents a number of challenges when it was actually released in August of this year. Companies will have some barriers when it comes to clients which they will need to meet by the deadline of August next year.
The first one is understanding the complexity of the Annex 1 regulations, being a 50-page document and affecting almost all the areas of production, it will take some time to read, understand, and then evaluate against your own SOPs. And then that's where I think the biggest challenge is, around evaluating those SOPs against the guidelines. Will you need to rewrite entire operating procedures? Do you need to add new ones where there weren't any before? And then finally, how are you going to validate your new SOPs? What criteria will you use and the types of products and procedures that you have in place already, will they be sufficient enough to meet the validation criteria?
These are all complex decisions that companies need to make within the deadline. So I really urge manufacturers that are undergoing this process to start early, form a team, and really understand how much work will be involved to get more manufacturing facilities up to compliance.
Latest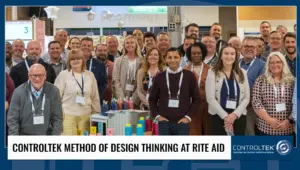 December 4, 2023
The video showcases a dynamic workshop titled "CONTROLTEK Method of Design Thinking at Rite Aid," highlighting the collaborative and innovative efforts between CONTROLTEK and Rite Aid teams. It features scenes of brainstorming, prototype development, and group discussions, emphasizing CONTROLTEK's customer-centric approach to problem-solving and innovation in retail solutions. The workshop demonstrates how cross-functional teams […]
Read More