The Health Equity Landscape for 2023. Part 1 of 2.
In a society striving for the best healthcare, any mission that doesn't consider all people receiving care is likely to fail. Today, the healthcare community recognizes the growing need to track social determinants of health through improved data methods to understand the challenges better and improve health equity outcomes. How can healthcare innovation, technology, or new care models be addressed without recognizing these solutions must be constructed and delivered on a foundation of equity?
Health equity is the central theme of the debut episode of Verizon Healthcare's new podcast series focused on connected healthcare. Lea Sims, Verizon's marketing strategy lead for healthcare, hosts this in-depth discussion of the health equity landscape in 2023. Two thought leaders and innovators in the healthcare space. Robin Goldsmith, Health Innovation Principal at Verizon Business, and Abner Mason, Founder & CEO at SameSky Health, joined Sims for a two-part discussion.
On the first episode of this two-part conversation, Sims, Goldsmith, and Mason discussed the following:
Bridging the health equity gap for people impacted by the social determents of health and underserved communities.

The current landscape of health equity in 2023

Learnings from the pandemic that brought renewed focus on health equity.

Breaking down the assumptions behind assumed needs vs. actual needs for people of color and other health equity patient populations.
"We need the data, and we need to come at this from the perspective of being willing to listen to the data and check our assumptions because that's the only way we're going to start to make progress here," Mason said.
Sims, Goldsmith, and Mason's conversation will continue with part 2 of Verizon Healthcare's connected healthcare podcast.
Abner Mason is a Harvard University graduate and leader in the drive for health equity. Mason's dedication to creating a more just, equitable, and effective healthcare system led him to found SameSky Health. He leads a team of diverse professionals who strive every day to improve outcomes and lower costs on behalf of health plans. SameSky Health is a post-Series B venture-backed company with leading investors, including 7wire ventures, Tufts Health Plan, Magnetic Ventures, Salesforce Ventures, and DaVita Venture Group.
Robin Goldsmith is a data-driven sales leader leveraging best-in-class technology and innovation to address healthcare's most challenging problems and focused on Innovation and strategy with Verizon's top Enterprise Healthcare clients around connected hospital, virtual care, patient experience, digital front door patient experience, and health information security. He works to co-create business use cases with healthcare stakeholders to address clinical and operational challenges and provide end-to-end solutions to meet their needs.
Lea Sims is a marketing, messaging, and thought leadership strategist with 30+ years' experience as a communicator, writer, and content developer helping nonprofit healthcare associations and enterprise organizations tell their stories–synthesizing industry voice with organizational narrative, enabling product and sales organizations to make meaningful connections to industry stakeholders, and forging strategic partnerships with influencer groups in key market spaces. Supporting Verizon's growing healthcare practice as an industry subject matter expert, thought leader, and marketing strategist is her primary focus–everything from product strategy to market narrative to innovation partnerships that advance the digital evolution of care delivery.
Latest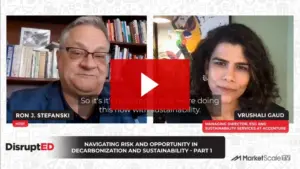 September 26, 2023
The global conversation has shifted dramatically towards decarbonization and sustainability in recent years. With the world experiencing unprecedented levels of disruption, from 5G technology to the challenges of a pandemic, the urgency to address climate change and its implications has never been more palpable. Although most business leaders see the vision of Sustainable Development […]
Read More