TPC Service Lines
TPC provides a powerful framework for collaboration between standalone community hospitals through supply chain, purchased services, and revenue cycle programs. With over 20 years of experience in strategic aggregation, TPC knows how to work with Members to optimize value and reduce costs.
Our industry leading results include impactful savings and performance improvement in key areas such as PPI categories, energy, foodservice, lab services, insurance, outsourced AR management and more – ultimately benefiting both hospitals and patients.
As an independent health care provider, you are not alone. Your partnership with TPC allows you to keep an eye on your bottom line, and better serve your patients. Stronger Together. Superior Results. TPC.
Read more at tpc1.com
Latest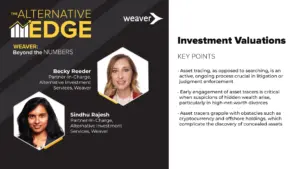 December 4, 2023
In this episode of The Alternative Edge, a Weaver: Beyond the Numbers Podcast, host Becky Reeder, an audit partner and co-leader of the alternative investments practice at Weaver, engages with Sindhu Rajesh, an Alternative Investment Services Partner with Weaver. They unpack the complexities of venture fund valuations, offering critical insights into industry dynamics and best […]
Read More