What Happens if Healthcare Rejects New Tech like Machine Learning
The challenges healthcare executives and administrators face are constantly changing. Host Kevin Stevenson talks with the heroes behind the heroes that are enabling hospitals, urgent care centers and telemedicine operators to spend their time tending to patients, while they handle the logistics.
How is artificial intelligence changing the healthcare industry? Does using AI improve health outcomes and reduce costs? To discuss the use of this technology in healthcare, Carol McCall, Chief Health Analytics Officer for ClosedLoop.ai joined host Kevin Stevenson.
"Healthcare is finally becoming a big-data industry," McCall said, pointing out that there is now so much data in healthcare it's almost too big to know and becomes a burden. That's where machine learning comes in. ClosedLoop.ai provides an intuitive end-to-end machine learning platform for healthcare organizations to predict health outcomes and target resources.
For example, McCall explains that health providers who are trying to prevent unplanned hospital admissions can use an AI platform to look at factors in their patient population to predict health outcomes. This allows providers to reach out to patients and help reduce the likelihood of hospitalization.
AI can be an essential part of the push toward value-based care. "If people want to succeed in value-based care they really have to have the ability to produce better outcomes with a much higher degree of precision. They have to be able to anticipate when something bad might happen because you can't prevent what you can't predict." McCall said.
Stevenson and Carrol delve into various use case scenarios for AI platforms from the coordinated care of ACOs to assessing specific risks of patient populations and integrating data for more predictive power. "Data and analytics are really becoming the center of healthcare," Mcaall said.
Latest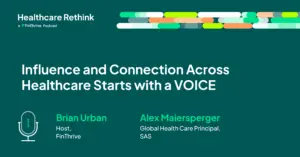 September 29, 2023
In the latest episode of the Healthcare Rethink podcast, presented by FinThrive, host Brian Urban sits down with Alex Maiersperger, the Global Principal Healthcare at SAS. Their conversation charts the role voice plays in influencing and connecting the healthcare industry. Maiersperger, who co-founded the Advancement League, shares his journey from being a healthcare optimist to […]
Read More