What Safety Measures Will Guests Expect as Travel Booms this Summer?
On this episode of A Move In The Light Direction, a podcast by Surfacide UV Technology, host Daniel Litwin talked with Wendy Walling, Director of Global Marketing at Intellego Technologies, and Jeff Veenhuis, President and CEO, Surfacide Manufacturing.
The trio spoke about trends in summer travels as the U.S. meets new highs in travel demand and how these will impact safety expectations for brick-and-mortar locations. Overall, travel demand has increased for the summer, which is good news for the travel industry.
As the European Union recommends the return of non-essential travel for U.S. passengers to boost their economy, the U.S. itself is seeing travel numbers similar to 2019, which was an excellent year for travel.
We recently crossed 2 million passengers crossing check-in thresholds in a single day, the TSA reported. Venues across the country are also seeing high traffic again, which also impacts the hospitality industry, but safety expectations have changed due to COVID.
"Whether it's travel or hotels, consumers are really looking for safety protocols," Walling said. "They want to see it in the policy and in the practice. They want to see evidence of it. The brands I think are going to do well and manage the influx of travel again are the ones prepared to handle that."
However, not everything is so peachy in the travel industry, as the world-shaking effect of COVID-19 lingers on with new variants. These could potentially lead to more restrictions on travelers and even more expectations for health and well-being.
Latest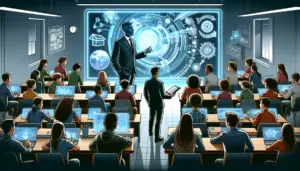 November 27, 2023
In an era where education stands at the crossroads of tradition and innovation, the potential value of thought leadership becomes the guiding star for progress. "Just Thinking" dives into this potential with host Kevin Dougherty and guest Evan Edwards, a Professional Learning Specialist at 806 Technologies who exemplifies the transformative impact of visionary guidance […]
Read More