Are European Hotels Ready to Welcome Back US Travelers?
Driven by consumer desires for new experiences, innovative technologies and environmental impacts – travel is changing. Host Sarah Dandashy explores the technologies and logistics that power travel and the brands that build unforgettable experiences.
European travel is opening back up, and as travelers head to some of their favorite destinations, Paris will most certainly be on the list. On the list of best places to stay is FAUCHON L'Hotel Paris.
On this episode of Say Yes To Travel, Host Sarah Dandashy talked with Jerome Montanteme, GM, Hotel Fauchon Paris, and Maud Welter, Director, Sales & Marketing. Hotel Fauchon Paris is a luxurious boutique hotel in the heart of Paris and the new epicenter of a contemporary Parisian epicure and luxurious hospitality. The trio talked about the five-star hotel, travel during the pandemic for French guests, and what European travel will look like post-pandemic.
While many five-star hotels in Paris had been shut down since last year, FAUCHON L'Hotel Paris has been open, welcoming French guests —  even ranking on TripAdvisor as the #1 Hotel in Paris. On either side of the pandemic, though, the goal of both Welter and Montanteme is to make the hotel visitors happy.
"We have the same spirit together on hospitality," Montanteme said of his and Maud's vision on how to treat their guests. "Hospitality for us is being happy to make the clients happy. This is really the sense of our job. If you're not happy to make the clients happy, it is better to find another business."
Listen to hear more about the decisions they made to survive the pandemic and their plans for the future as Euro travel reopens.
Latest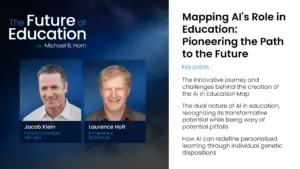 October 2, 2023
Mapping AI's role in education should be a critical step in bringing together innovative technology-based solutions with the expertise of human educators. With rapid advancements in artificial intelligence and an increased reliance on technology-driven educational solutions, the education landscape is on the brink of a significant transformation. AI promises highly personalized learning experiences, efficient administrative […]
Read More