Historic Hotels Turn to Technology to Enhance Customer Experience
The hospitality industry seems like a digital technology arms race and historic hotels are aiming to meet these new modern standards without compromising their integrity.
The Greenbrier Resort in White Sulpher Springs, W. Va., Hotel Del Coronado in San Diego, Calif. and The Driskill in Austin, Texas have all found ways to stay prominent while also being recognized as pioneers in hospitality. These three iconic hotels have been serving guests for more than 100 years, and being able to find the balance between modernization and preservation is critical to their future.
History is something that can't be fabricated, but the Del Coronado, a resort with all-wooden buildings, is introducing guests to modern digital technology to separate itself from competitors. Rooms that once had fireplaces now have televisions with Netflix, Pandora and other entertainment options, and the resort has increased its ability to communicate with guests.
"We have all digital signage on the property for guest wayfinding [for groups and corporate teams] so you can walk up to computers to see where your group is meeting," said Del Coronado Director of Public Relations, Sara Baumann. "When guests check in they can give us their phone numbers, so we can communicate with them via text, so whether you need in-room dining, extra towels, we can communicate when your guest room is ready, so we are able to talk to guests that way, and that is 24/7."
In Austin, The Driskill is careful to adopt a digital overhaul. Instead, it's relying on its reputation as a classic hotel. However, it doesn't want to give its guests an authentic 1886 experience verbatim.
"A lot of the time when people hear 'historical' they think 'old' so one thing that we've been trying to do is to take away that old feeling and modernize it to the point where our facilities are more modern but, yet you still feel that history," said Driskill sales coordinator, Julie Hepker. "So, it doesn't feel like you are walking into a museum, per se."
The Greenbrier Resort Historian, Bob Conte, says he sees more first-time guests now more than ever before, and that a casino built by the resort in 2010 was one example of the property undergoing significant changes to attract guests.
Conte also noted that technology may have a bigger impact on staff than guests at the Greenbrier. A digital app updates workers about events, hours of operations and other issues occurring on the property. He said this has made the guest experience more efficient.
While all three resorts said the historic nature of their properties is still a major component to their business, upgraded amenities are important to attracting new guests. Rapid developments in technology will continue to shape the hospitality industry, and hotels like these are planning on keeping their old-world charm while still engaging guests.
Latest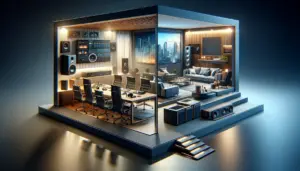 November 27, 2023
In this episode of "Pro AV Today," host Ben Thomas sits down with Audra Kinsley of Sonos Professional to unpack a topic that's causing (sound) waves in the audio industry: the fusion of commercial and residential audio systems. As we navigate through a landscape where consumer and professional audio worlds are increasingly intersecting, Sonos steps […]
Read More