Hotel Panic Buttons for Employee Safety? Harassment is a Concern for Hotel Employees.
Employee harassment is all too familiar to workers in the hotel industry; an oft referenced 2016 survey from labor union UNITE HERE revealed nearly 60 percent of hotel housekeepers report they have experienced sexual harassment. Hotels are taking things into their own hands as well, tackling concerns over employee safety with strategies including employee safety trainings, systems for incident reporting, safety drills, and now, the relatively new hotel panic buttons.
Recently, some cities have tried to address this safety issue at a municipality-wide level. California's Irvine City Council voted in a new ordinance in October aimed at protecting hotel workers like housekeepers. The proposed solution? Hotel panic buttons. The law requires hotels to issue panic buttons to hotel workers, along with other measures aimed at limiting number of rooms cleaned. Irvine isn't the only city implementing these sorts of laws; other cities throughout California are implementing requirements to equip employees with safety devices such as panic buttons.
Hotel panic buttons are proving a reliable solution, at least based on usage numbers and employee feedback. Anecdotal accounts from safety device company React Mobile, for example, claim they helped more than 700 hotel workers last year. One of these instances helped a valet employee receive assistance after being punched in the face by a customer who did not want to pay the valet fee. Another mitigated an attack on a housekeeper by a customer who was disgruntled that his room was uncleaned.
Will these hotel panic buttons truly make a difference in reducing instances of violence or harassment, or are they just a band-aid fix to a larger problem? David Santiago, physical and cybersecurity expert and Chief Content Creator at @DavidSecurity, thinks there's still more to consider when trying to solve for hotel safety issues.
David Santiago's Thoughts:
"Panic buttons for hotel employees—are they necessary? And more importantly, do they actually work? Now, hotels have a unique security challenge because on the one hand, they want to maintain a welcoming and open environment while maintaining a strong security posture.
Naturally, hotel management want to ensure the safety of their employees and panic buttons are a popular and safe option. But it's just one catch to panic buttons. They don't actually work. Now hear me out. Thinking that a security device will solve a problem is like thinking that a pair of running shoes will make you a runner. Just doesn't work.
The bottom line is this: hotel security management is a process, not an event. And while panic buttons do provide an extra layer of protection, they're only as effective as the people using them. And now you know."
Article written by Cara Schildmeyer.
Latest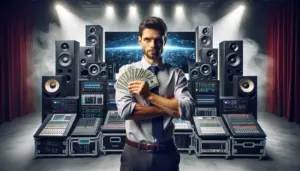 December 8, 2023
Mastering AV sales strategies in a global professional audio-visual (Pro AV) market, poised to reach $79.2 billion by 2028, requires much attention to detail. The surge in demand from corporate, government, and institutional sectors, driven by the need for enhanced productivity and efficient working environments, gives AV sales pros a lot of opportunity. In […]
Read More