How the Cloud is the Hospitality Industry's Best Hope Against Hackers
Hotels face similar cybersecurity issues as retail and restaurants in that each stores customer credit and debit card data, with one notable addition: hotels also store people's home addresses. The combination of home addresses and credit/debit card data makes the latter even less secure, as that means hackers would have an important piece of information to make access to the financial data easier. In order to have access to the bank data, hotels must remain online at all times, meaning there is no choice but to have a good cybersecurity system in place. This is especially true for hotel chains, which also tend to feature centralized databases.
Traditionally, hotels have used a hardware-based approach and firewalls to help maintain security. But the world of cybersecurity is changing, as are the nature of the threats. Hackers and cybersecurity are in a constant arms race, so it's vital to keep one's cybersecurity as up-to-date as possible. However, as ITProPortal reports, Traditional hub-and-spoke architectures and security technologies are not built for cloud applications but replicating the network security stack at every branch is prohibitively expensive, adds to management burden, and increases complexity. If businesses try to compromise by using only on-premises next-generation firewalls or VNFs, it will leave locations vulnerable.
This is precisely how many hotels continue to structure their networks. As noted above, simply trying to repair what exists makes things more complex and, over the long run, much more expensive.
To improve security, hotels need to begin moving away from centralized database architectures and into the cloud. The cloud can store all kinds of data, including sensitive data such as addresses and credit/debit card data. Most importantly, it does so more securely than do traditional security appliances.
To create a more secure system, "a high degree of integration of various security mechanisms is required, combining web security, URL filtering, sandbox technologies, and next-generation firewalls with one another. This way, log data can be quickly correlated and malware can be automatically analysed and blocked." According to ITProPortal.
This, along with the cloudification of data, will actually keep hotel data more secure as well as bring down the overall costs of storing and protecting that data.
Latest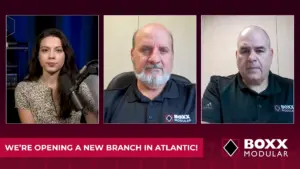 December 4, 2023
In an era where construction innovation is reshaping the industry, modular construction's growth continues to rise. In this episode of Built Modular, Boxx Modular's strategic expansion into Moncton, Atlantic Canada takes center stage. Host Gabrielle Bejarano welcomes Charles Landry and Ray Girouard to explore the implications of this venture. Bejarano, Landry, and Girouard discuss […]
Read More